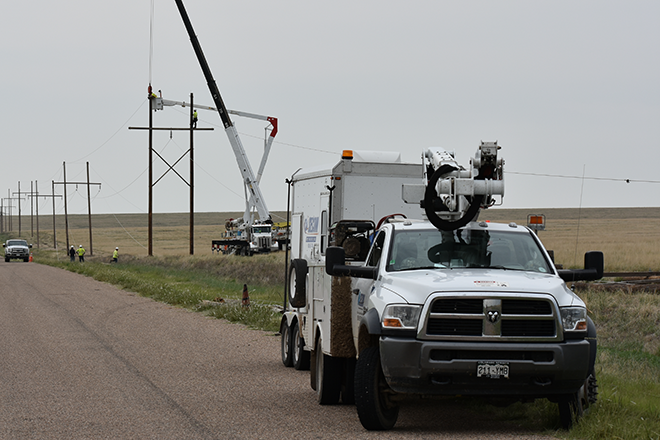 Published
Saturday, July 28, 2018
Update: Power was restored at 8:55 p.m. Saturday.
Crews from Southeast Colorado Power Association, and its broadband internet subsidiary, SECOM, continue efforts to restore service to central Kiowa County nearly 24 hours after a violent storm with winds estimated at 70 miles per hour swept through the area.
Nearly two-dozen people, along with heavy equipment, were working Saturday afternoon along Kiowa County Road 49, approximately four miles south of Highway 96, where numerous poles had been snapped by strong winds. In addition to providing power, the damaged poles also carry a fiber optic cable that supports internet service to homes and businesses in the area.
The storm dumped heavy rain, which caused road flooding. Kiowa County Sheriff Casey Sheridan posed videos on social media showing water flowing freely across Highway 287 southwest of Eads.
287 mile post 105 south of Eads. Water running over the road way. pic.twitter.com/shPcqm6J5c

-- Casey Sheridan (@KCSOSheridan) July 28, 2018
Within the town, branches were snapped and at least one tree was toppled into the roadway, forcing a temporary detour along Maine Street to bypass the damage.
Power was knocked out to the community around 7:15 p.m. Friday and has remained out since that time. Among the concerns from the extended outage is food spoilage. When temperatures in refrigerators rise above 40 degrees, food can become unsafe and should be thrown out.
More severe weather is expected on Colorado's eastern plains Saturday night as thunderstorms return. Large hail and wind gust up to 70 mph are possible into the early evening. Tornadoes are also possible for Kiowa and Prowers counties according to the National Weather Service office in Pueblo.
Additional storms are predicted for Sunday.