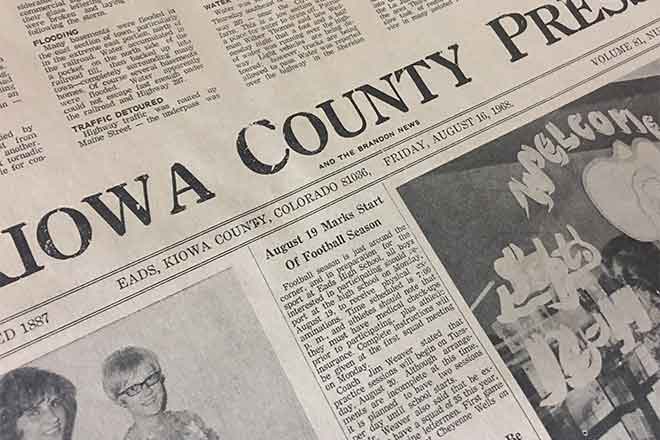 Published
Sunday, March 27, 2022
15 Years Ago
March 23, 2007
A truck hauling Fat Tire Beer blew a front steering tire, crossed into the other lane and back before it caught fire. The driver was not injured.
As the West End Turns- Michelle Wyckoff: Wanda and I went to Colorado Springs to a Post Office meeting. It was wonderful and strange. They were strange, we were wonderful.
East End Events- Lana & Peggy Weber: Bernice Tuttle wanted to remind everyone "No Money" needed to come to game night, just bring the goodies.
Dear Kiowa County, I'm a 5th grader from Conway Elementary in WA. My class is doing a state report and I chose Colorado. What is the weather like? What do the kids wear?
25 Years Ago
March 21, 1997
Nursing Home News- Nellie Nichert: Cheyenne Wells finally made it over for a couple of hours of Bingo after three cancellations.
40 Years Ago
March 19, 1982
Construction on the addition to the First National Bank in Eads has begun.
Plainview Science Department had 23 students grades 6-9 attend the Regional Science Fair in Lamar. Four of those students will represent the region at the State Science Fair.
From the Sheriff's Desk-Floyd Griswould: A prairie fire burned out of control form some two hours causing extreme damage to a pasture belonging to the Pyles Estate.
From the Sheriff's Desk-Floyd Griswould: The thieves were hitting places in Prowers County and leaving us alone.
50 Years Ago
March 24, 1972
There is a rumor, not without basis, concerned the possibility of the Amity Mutual Irrigation Company selling its water rights to an "up-river canal company."
The Kiowa County Sheriff's Department is investigating a break-in at the Kiowa County Courthouse.
Damage that swept through the office of the Cheyenne Wells High School has been estimated at $30,000. The school is closed until further notice.