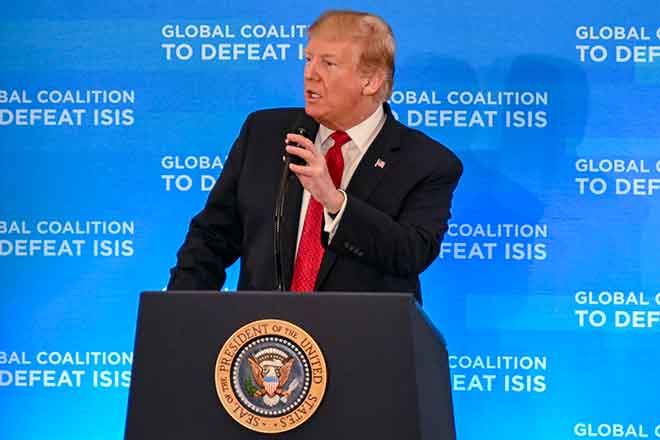 Published
Tuesday, August 11, 2020
(The Center Square) - President Donald Trump signaled Monday that he might present his speech accepting the Republican nomination for president at the Civil War battlefield in Gettysburg, Pennsylvania.
"We have narrowed the Presidential Nomination Acceptance Speech, to be delivered on the final night of the Convention (Thursday), to two locations - The Great Battlefield of Gettysburg, Pennsylvania, and the White House, Washington, D.C.," Trump wrote on Twitter. "We will announce the decision soon!"
The location for the speech has been up in the air as a result of the coronavirus pandemic and a political spat with North Carolina Democrats. Officials in that state indicated they were unlikely to give approval for a full-scale convention, scheduled for Aug. 24 to 27 in Charlotte, because of local transmission rates.
The Trump campaign made plans to move at least a portion of the convention to Jacksonville, Florida, but those preparations also hit a roadblock when infection rates in that part of the state began to climb in July.
The convention is still formally taking place in Charlotte, but without the sorts of mass crowds and pageantry that presidential campaigns usually aim for, and without the president's acceptance speech. In recent days, the president had floated the idea of delivering the speech from the White House; Monday was the first time the idea of traveling to Pennsylvania reached the public.
The president's address is scheduled for Aug. 27, in prime time.
Word that the president might come to the Keystone State to deliver his address drew a predictably negative response from the state Democratic Party
"Instead of firing off tweets, Trump ought to deliver on a national testing strategy, abandon his reckless executive orders which would slash Social Security and cut weekly unemployment benefits for struggling workers, and stop blocking necessary funding for COVID-19 testing and contact tracing," Pennsylvania Democratic Party Executive Director Jason Henry said. "Until he does that, Pennsylvania families won't care about his political speeches."
Presumed Democratic nominee Joe Biden, a Pennsylvania native, will also see his acceptance speech taking place in a previously unexpected manner. The former vice president, instead of traveling to the convention site in Milwaukee, is set to deliver his address Aug. 20 from Wilmington, Delaware.