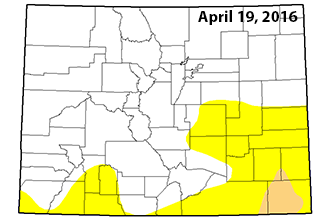 Published
Thursday, April 21, 2016
While a significant portion of the state is still abnormally dry, last weekend's rain and snow brought welcome relief in drought conditions.
One week ago, well over seven percent of the state was experiencing moderate drought conditions - all in southeast Colorado. Now, just over two percent of the state is experiencing such conditions. An area of severe drought in southern Baca County has been completely erased. Nearly one-quarter of the state is considered abnormally dry, including most of southeast Colorado.

Previously, all of Baca and Prowers Counties, most of Bent and Kiowa Counties, and smaller portions of Otero, Cheyenne and Las Animas Counties were in moderate drought. With the most recent report, Kiowa, Cheyenne and Otero have all returned to abnormally dry conditions. Only small portions of Prowers and Bent Counties remain in moderate drought, along with a reduced area in Las Animas County. More than half of Baca is still considered to be in moderate drought.
For areas viewed as abnormally dry, Huerfano and Pueblo Counties experienced the greatest improvement. Huerfano has returned to normal conditions, while only northern Pueblo County remains abnormally dry.
Storms last Friday brought 2-4 inches of moisture across much of the area, and cooler temperatures through the middle of the week slowed evaporation.
In the coming week, look for temperatures in the 70s and 80s, and some possibility of isolated afternoon and evening showers.