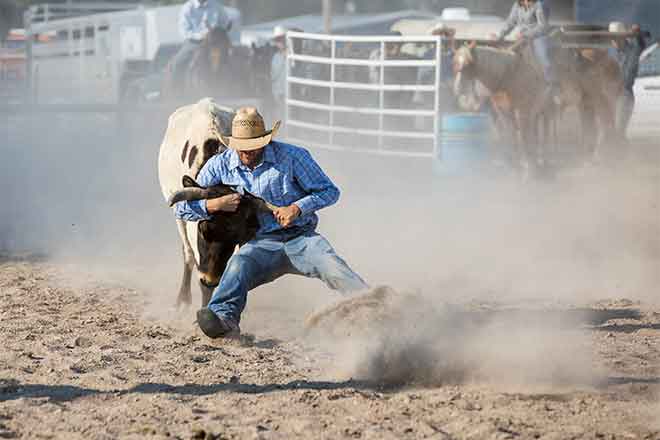 Published
Friday, July 16, 2021
Southeastern Colorado's Sand & Sage Round-Up is set to return to Lamar August 7-14. This year marks the 120th anniversary of this popular county fair, which takes place at the Prowers County Fairgrounds.
Sand & Sage Round-Up History
Not many Colorado country fairs can claim to go back as far as the Sand & Sage Round-Up, which made its debut in September 1901 on 40 acres south of the Arkansas River and north of Lamar. Inspired by a friendly competition with neighboring Holly - which hosted a big fair in 1900 - Lamar felt the need to have one too.
The inaugural Sand & Sage Round-Up was attended by approximately 8,000 people and was much different than the event produced today. Instead of cash, boxes of cigars, silver jars, paint, shirts, fountain pens, and groceries were given as prizes. There was a dedicated agricultural hall in a large tent in which visitors could witness the largest stock exhibit ever in Lamar's history. The fair's displays included canned fruit, cakes, pickles, jellies, butter, art, textiles, floral exhibitors, poultry, and honey. There was also a merry-go-round, bicycle races, and burro races.
In 1948, the Board of County Commissioners of Prowers County purchased from Ernest Eddleman acreage south of town because the fair was outgrowing its then-current location. Around this time, World War II disrupted the fair, and it wasn't until 1947 that the citizens began to organize the fair again. The reinstated fair was first held at its new location in 1949 and is still held here today.
The Sand & Sage Round-Up Today
The present Sand & Sage Round-Up has some similarities when compared to the 1901 fair. There are still livestock shows, exhibits, and a PRCA Rodeo.
However, the current fair has more entertainment for all ages, is a week-long event, and includes 4-H and Future Farmers of America (FFA) events, which have become a large part of the fair. Additional events at today's Sand & Sage Round-Up include Vaqueros Gymkhana, team roping, a family night, a working dog competition, Kids Day, Ranch Rodeo, a ham and bean dinner with a homemade pie auction, and PRCA Rodeo with a barbecue dinner.
One of the fair's events is the Sand & Sage Round-Up Concert, which debuted in 2011, making this year its 10th Anniversary. This year's concert will feature rock and roll band Lynch Mob, country music Diamonds & Whiskey, and Vocal Trash, which makes music using trash cans, metal lids, and brooms.
The Sand & Sage Round-Up could not happen without its volunteers and sponsors. It is truly a community event that showcases the community of Lamar and gives everyone an opportunity to participate.
Visit www.sandandsageroundup.com for more information.