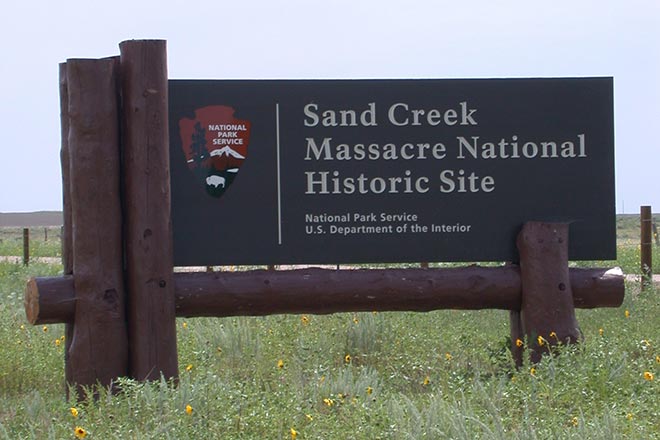 Published
Sunday, September 6, 2020
Last week, Senator Michael Bennet visited Eads for a quick tour of the Sand Creek Massacre National Historic Site Visitor Center located in downtown Eads.
Senator Bennet asked why the National Park Service chose the building as the location for the visitor center. Sand Creek Massacre NHS Site Manager, Janet Frederick, explained that, since the Sand Creek Massacre NHS is considered a sacred place, they would like to keep construction to a minimum. She went on to explain that, in 2005, Kiowa County adopted an historic preservation ordinance and established a county historic preservation commission. In 2009, a reconnaissance survey was conducted in the towns of Sheridan Lake, Eads and Haswell. The site selected for the visitor center is located in what local people refer to as the "Murdock Building." The building was one identified in the survey.
The Kiowa County Commissioners, working closely with the Park Service vision, renovated part of the building as a visitor center to give visitors access to information about what had led to the tragedy before traveling to the site.
The renovation is also expected help revitalize downtown. The Park Service has used the Plains Theatre, located across the street, to present documentaries. The theater has also been renovated
After touring the ground-level bookstore, the tour went to the second floor, which consists of a library, gallery, computer research area as well as film room. There are also offices for the staff and a conference room.
Senator Bennet was pleased with remodeling the building to keep the integrity of the old building while adding modern touches. He was impressed they were able to keep the old interior doors and reuse them.
After the tour of the visitor center, the Commissioners invited Senator Bennet to tour the space next door, which is being transformed into the new senior citizen center, which is in the final stages of renovation.