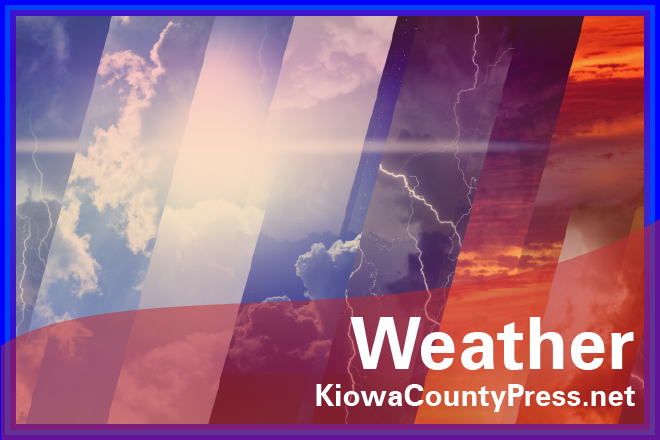 Published
Sunday, June 2, 2019
Sunday's temperatures across Kiowa County will be largely similar to Saturday, however the chances for showers and severe thunderstorms are expected to increase, especially Sunday evening.
The day will start with partly sunny skies and south wind in the 10-15 mile per hour range. High temperatures in the low 80s are expected, though far western Kiowa County may be a few degrees warmer.
By Sunday afternoon, the chance of thunderstorms - some severe - increases to 30-40 percent, with a further increase up to 50 percent Sunday night. While less than one-tenth inch of rain is expected generally, totals could be higher where thunderstorms do occur. Look for the first storms to form between 1:00 and 2:00 p.m., continuing into the night. Severe thunderstorms could bring wind gusts to 60 mph, quarter-size hail, and some potential for an isolated tornado. Flash flooding is also possible.
Overnight, temperatures mainly in the mid-50s are expected.
Through the week, look for highs in the upper 70s to mid-80s, with a 20-40 percent chance of afternoon thunderstorms. Tuesday night currently brings the greatest chance of storms.
At 6:15 a.m. Sunday, a wind gust of 11 mph was the strongest recorded since midnight in central Kiowa County. The temperature was 51 degrees. Saturday's high was 86, with a low of 53. The strongest wind gust, at 32 mph, came at 7:49 p.m. Just 0.06 inches of rain was recorded, however higher amounts likely occurred east of Eads between Brandon and Sheridan Lake during the early evening hours.
Currently, KiowaCountyPress.net Live Weather from downtown Eads shows ENE wind at 1 mph. The temperature is 58.
Elsewhere in Colorado, the spring warmup continues to bring increased potential for mountain snow runoff. Warm days and mild nights can cause river and steam levels to increase rapidly and may cause flooding in some areas over the coming days. A flood advisory have been issued for the Gunnison River above Grand Junction that is expected to continue through the week. An advisory is also in effect through Monday morning for the Conejos River in southeast Conejos County.
Kiowa County Weather Outlook for June 2, 2019

Community

High

Low

Chance of Precip

Wind Gust

Direction

Arlington

85

56

40

15

SE

Haswell

82

55

40

15

SE

Eads

82

53

30

15

SSE

Brandon

82

54

30

15

SSE

Sheridan Lake

80

56

30

15

SSE

Towner

80

56

30

20

SSE
Weather information updated throughout the day is available at http://weather.KiowaCountyPress.net.