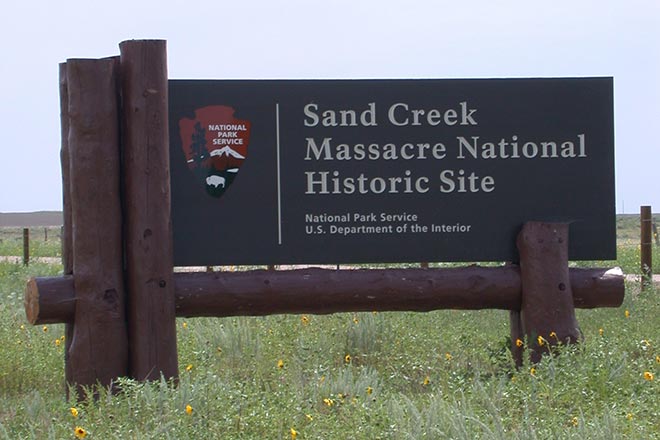 Published
Sunday, March 19, 2023
The Sand Creek Massacre Foundation has announced that it has been awarded an Inclusive Storytelling grant from the National Park Foundation. This grant will enable the foundation to fund such projects as:
Recording and preserving Cheyenne and Arapaho oral histories
Assisting the National Park Service in developing a temporary exhibit at the Sand Creek Massacre National Historic Site Visitor and Education Center in Eads, Colorado
Documenting, archiving and preserving the genealogical record of Sand Creek Massacre descendants
Creating a repository of documentary and narrative films about the massacre
"The Sand Creek Massacre Foundation is especially grateful to the National Park Foundation for its support through the Inclusive Storytelling grant program," stated Alexa Roberts, Interim Chair. "The collection and preservation of historical records and descendants' voices made possible by these funds will contribute to a deeper understanding of the Sand Creek Massacre's legacy today so that such egregious acts may never be repeated in the future."
These projects will enable the Sand Creek Massacre National Historic Site to share more inclusive and comprehensive narratives by bringing hundreds of names of victims and descendants of the Sand Creek Massacre into the historical record and compiling three decades of oral history recordings by Cheyenne and Arapaho descendants for new public educational opportunities. New exhibits at the site's Visitor and Education Center in Eads, created through a partnership with History Colorado, will draw on these names and stories. The site will be equipped to continue capturing oral histories from massacre descendants and tribal members. Voices and stories will inform park interpretation and add to the historical record related to the massacre and will be publicly accessible, both on-site and through a web-based platform. Valuable and currently inaccessible genealogical and primary source historical information about the Sand Creek Massacre will be organized, cataloged and preserved in the new Center for Sand Creek Massacre Studies to inform National Park Service interpreters, tribal descendants, researchers, educators, and the general public for generations to come.
"For more than a century, national parks have commemorated people, places, and events, which have given shape to the unfolding American story we all share," said Will Shafroth, president and CEO of the National Park Foundation. "Through the Inclusive Storytelling grants, the foundation and National Park Service hope to ensure all visitors see themselves in our national parks and feel a sense of belonging when they experience their wonder."
The National Park Foundation Inclusive Storytelling program is a new philanthropic investment to support the National Park Service in updating interpretive programs, websites, and visitor centers as well as develop new interactive offerings, including exhibits, podcasts, and education programs at parks across the country.