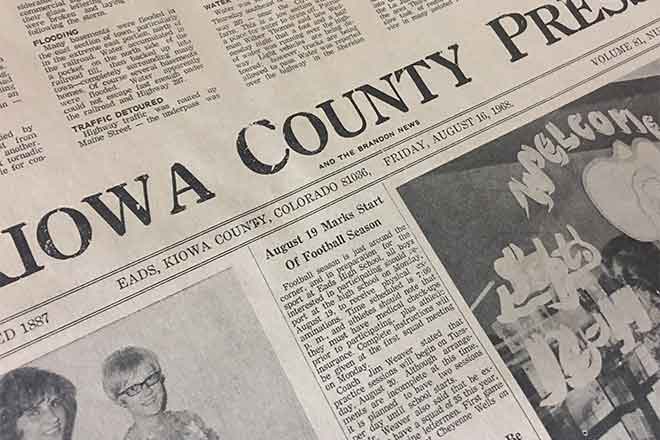 Published
Sunday, September 11, 2022
15 Years Ago
September 7, 2007
About Town- Melissa Peterson & Doris Lessenden: Mercy, there was a lot of activity in Eads over the Labor Day weekend. It took me a good five minutes to cross the highway and from South Maine Street due to all the semis and campers on the road.
The Big Diamond Tour Bus returned about 50 local folks to the area and other parts of the state. This was a 9-day excursion which traversed several states to spend time in and around Mackinac Island, Michigan.
25 Years Ago
September 5, 1997
Larry Kallenberger, executive director of DOLA announced that Kiowa County would receive $170,000 for road improvements from the Energy and Mineral Impact Assistance fund.
40 Years Ago
September 3, 1982
Eads Golf Club held their annual Tri-State Golf Tourney that attracted 108 golfers to Eads for a two-day event.
50 Years Ago
September 8, 1972
A daylight robbery at Triangle Clothiers resulted in $1,334 in cash being stolen at about 3:00 p.m. September 5.
Haswell Notes- Doris Forsyth: We do know that it can rain at Haswell as we have had an abundant supply. Week ago, from 1.5 to 2.5 inches, this week a cloudburst 2.5 to 4 inches and drizzle the next day added another 1 to 1.5 inches