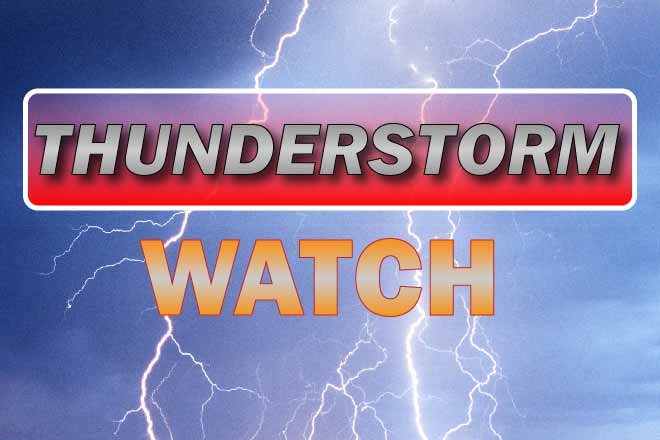 Published
Sunday, July 12, 2020
The National Weather Service has issued a severe thunderstorm watch for Colorado's eastern plains Sunday afternoon. Hail two-and-a-half inches in diameter or larger is possible, along with wind gusts up to 70 miles per hour, flash flooding, and a few weak tornadoes.
The watch area includes Washington, Yuma, Elbert, Lincoln, Kit Carson, El Paso, Cheyenne, Pueblo, Crowley, Kiowa, Pueblo, Huerfano, Otero, Bent, Prowers, Las Animas and Baca counties, and extends into Kansas, New Mexico, Oklahoma, and Texas. The watch is expected to be in effect until 9:00 p.m. MDT Sunday

Radar image updates every five minutes.
Storms began to form over Colorado's high country earlier in the day, gradually spreading across the eastern plains toward Kansas.
The greatest risk for the largest, damaging hail is in Baca, Prowers, Bent, Kiowa, and Cheyenne counties, along with portions of Kit Carson, Lincoln, Crowley, Otero, and Las Animas counties. Smaller hail - up to one inch - could fall across other parts of eastern Colorado.
As warnings are issued, the NWS encourages people in the impacted area to seek shelter in a sturdy building, preferably away from windows, which could be broken by hail and result in dangerous flying debris.
The Colorado Water Conservation Board is predicting a low risk for flash flooding across the southeast portion of the state from Sunday's storms. CWCB expects the maximum one-hour rainfall rates to remain just under two inches. The flood risk is expected to be greatest between 4:00 and 11:00 p.m.
The chance for severe thunderstorms is predicted to continue into Tuesday.