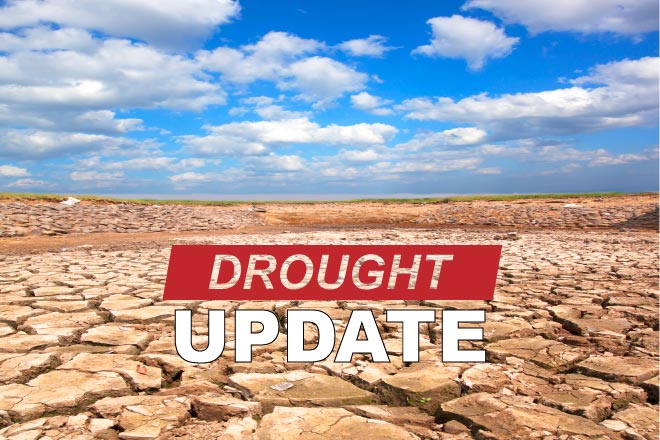 Published
Friday, February 22, 2019
A week of significant snow storms in southwest Colorado has contributed to substantial improvements in extreme drought for the area.
Extreme drought - the second most severe category - dropped to the severe category for all or most of Chaffee, Pitkin, Gunnison and Saguache counties, as well as large portions of Montezuma, La Plata, Dolores, San Juan and Hinsdale counties. Northeast Conejos County and northwest Archuleta County also saw severe drought overtake extreme conditions. A sliver of southwest Archuleta also retains the state's only remaining trace of exceptional drought.
Overall, areas of drought-free, abnormally dry and moderate drought conditions were unchanged in the most recent report, holding at eight, 25, and 27 percent of Colorado, respectively. Severe drought increased from 18 to 29 percent of the state, while extreme conditions dropped from 22 to 10 percent. Exceptional drought was unchanged at less than one percent of Colorado. The total does not equal 100 percent due to rounding.
One year ago, nine percent of Colorado was drought-free, while 20 percent was abnormally dry. Moderate drought covered 38 percent of the state, with an addition 26 percent in severe conditions. Extreme drought impacted eight percent of the state.
Colorado's river basins continue a strong showing in the wake of recent snowfall that continues into this weekend. Statewide, snow water equivalent - the measure of water in the snowpack - stands at 115 percent of the median for this time of year, up from 108 percent one week ago. All basins are reporting 108 percent of median or greater. The San Miguel, Dolores, Animas and San Juan basin leads the state at 124 percent. At the start of the year, the basin was one of the weakest at around 80 percent of median. Similarly, the Upper Rio Grande basin has improved to 118 percent.
Drought categories include (ranked from least to most severe) abnormally dry, moderate, severe, extreme and exceptional drought.
Drought maps courtesy of the National Drought Mitigation Center. Snow water Equivalent map courtesy of the United States Department of Agriculture - Natural Resources Conservation Service.
Colorado Drought by the Numbers

Week

Date

None

D0

D1

D2

D3

D4

Current

2/19/19

8

25

27

29

10

0

Last Week

2/12/19

8

25

27

18

22

0

3 Months Ago

11/20/18

17

17

11

21

21

13

Start of Calendar Year

1/1/19

18

16

11

28

16

11

Start of Water Year

9/25/18

14

14

8

16

32

16

One Year Ago

2/20/18

9

20

38

26

8

0