Image
Some Like It Hot – This Forecast is for You
"Hot" is the watch word across Colorado for the final weekend before Tuesday's official start of summer, however a front will help cool things Sunday.
Image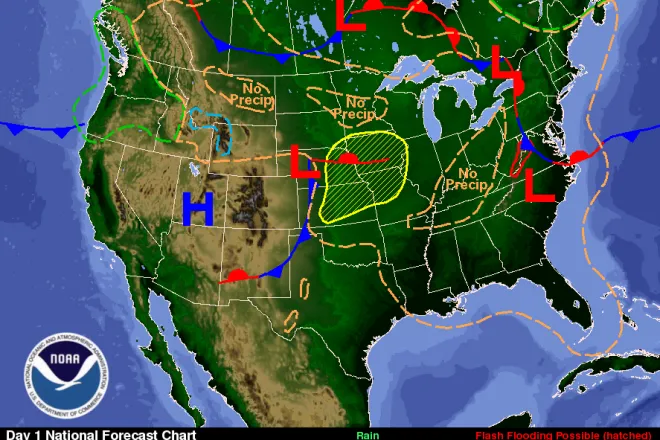 Friday's temperatures will be in the 90s across most of the eastern plains and western Colorado. Lamar may even see a high of 100. For relief from the heat, head to the mountains, where temperatures will be in the more comfortable 70s to 80s. The annual mountain snow melt continues, so use caution around creeks and stream where water may be running high and banks could give way. Despite the heat and low humidity, however critical fire weather conditions are not expected as winds remain largely in the five to ten mile-per-hour range.
Saturday will be largely similar, though a "cold front" will pass across the southern part of the state later in the day dropping the overnight low a few degrees versus Friday night. Gusty winds in the 15 to 25 mph range are possible, along with brief rain in some locations.
A west flow over Colorado Sunday will help bring cooler temperatures across the plains Sunday. Highs will be in the mid-70s to low 80s, with a shower or two possible. The west slope will see little relief as temperatures remain in the 90s.
Weekend Forecast - June 16-18

 
Friday
Saturday
Sunday
City
High
Low
High
Low
High
Low
Eads
96
58
97
54
80
56
Springfield
96
61
98
58
80
58
Trinidad
93
56
94
54
81
55
Limon
91
54
89
52
76
51
Sterling
93
60
81
53
78
54
Fort Morgan
94
59
85
54
80
55
Craig
81
53
80
45
80
46
Grand Junction
94
66
97
61
94
61
Montrose
90
60
93
57
90
56
Cortez
89
54
92
55
92
54