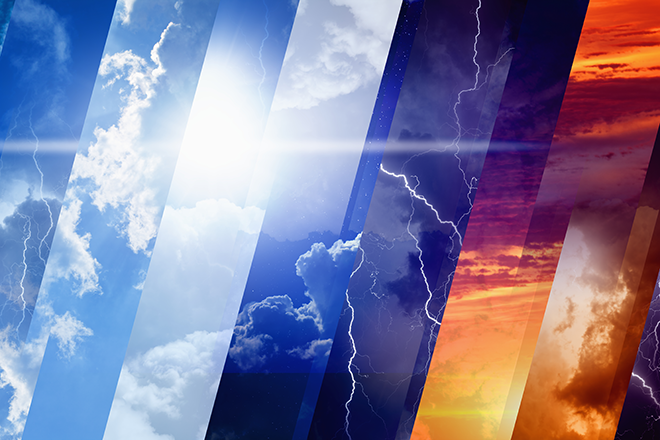 Published
Sunday, December 10, 2017
Red flag warnings continue for portions of the eastern plains of Colorado Sunday, with dry and unseasonably warm temperatures expected to continue through the work week for most of the state.
Eastern Plains
Cheyenne, Kit Carson and Yuma counties are under a red flag warning until 4:00 p.m. Sunday. Northwest winds will be gusting up to 25 miles per hour, and the humidity could fall as low as eight percent, which could cause any fires that start to spread rapidly.
While red flag conditions have not been met across the remainder of the region, fire danger is still high as temperatures hit the mid-60s under the impacts of an upper-level high pressure system. Overnight, low temperatures will fall into the 20s.
Increased fire danger returns Monday for most of the eastern plains, and additional red flag warnings are possible.
Similar conditions are expected throughout the week, with some hints of a change in the weather next weekend.
West Slope
Though not as warm as the eastern half of the state, western Colorado can expect daytime highs in the upper 40s to low 50s over the coming days. The northwest corner will be about ten degrees cooler, with highs in the mid-30s to low 40s. Overnight lows will fall into the teens, with single digits expected around the Craig area.
Dry conditions and mostly clear skies are projected at least through the middle of the week.
Weather updates throughout the day are available at http://KiowaCountyPress.net/weatther.
Temperature Forecast - December 10 - 13

Sunday

Monday

Tuesday

Wednesday

City

High

Low

High

Low

High

Low

High

Low

Eads

64

22

59

19

60

24

49

24

Springfield

65

27

62

20

60

28

60

26

Trinidad

59

24

57

23

60

26

57

25

Limon

61

18

54

18

60

24

57

21

Sterling

64

23

55

22

61

28

56

24

Fort Morgan

61

21

56

21

60

26

57

23

Craig

37

7

36

8

41

10

43

14

Grand Junction

49

18

47

21

49

23

52

20

Montrose

49

18

47

21

49

23

52

20

Cortez

50

14

49

16

51

18

52

18