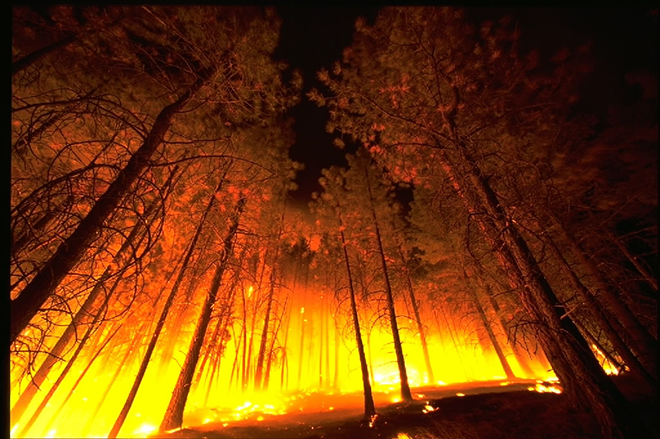 Published
Tuesday, September 5, 2017
The Big Red Fire, discovered in Routt County Friday, experienced major growth over the holiday weekend, reaching over 1,400 acres.
The fire is believed to have been started by lightning August 19 - the last time storms were in the area. The fire is burning in the Routt National Forest north of Big Red Park about five miles south of the Colorado-Wyoming border or 45 miles north of Steamboat Springs.
Wildland fires are typically named after the closest prominent geographic feature or landmark.
Hot, dry weather in the area, combined with gusty winds expected from isolated thunderstorms, will result in continued active fire behavior over the coming days as 102 firefighters work to gain the upper hand on the blaze.
Workers are attempting to use meadows, drainages, and rock outcrops, along with roads and trails, as fire breaks when possible. The area has been heavily impacted by beetle-killed spruce, fir and pine trees, and poses a substantial risk to the safety of fire crews.
Most activity is focused on the creating a fire line along the southern perimeter of the fire to help protect private property.
Officials held a community meeting Monday night to brief residents on progress in fighting the fire.
Smoke from dozens of fires burning in Montana, Oregon and Washington have heavily impacted eastern Colorado. Officials from the Colorado Department of Health and Environment issued advisories Monday due to the heavy smoke. A cold front that dropped across the eastern half of the state Tuesday has greatly improved air quality.