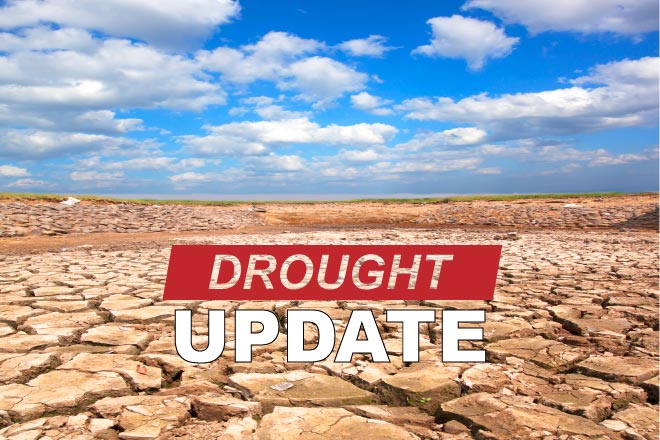 Published
Friday, January 11, 2019
After a month of largely unchanged drought conditions across Colorado, portions of southwest and south central Colorado saw welcome relief.
Exceptional drought, the most severe category, shifted to extreme conditions in central Montezuma County.
Extreme drought gave way to the severe in the San Luis Valley across most of Alamosa County along with western Rio Grande and smaller portions of northern Conejos, northwest Costilla, and southern Saguache counties. A remaining sliver of extreme conditions also shifted to severe in southwest Moffat and northwest Rio Blanco counties.
Recent snow improved conditions at lower elevations in southern Colorado, however mountain snowpack remains below normal in the area.
Abnormally dry conditions changed to moderate drought in central Colorado across El Paso County, northwest Elbert County, the southern two-thirds of Jefferson County, all of Douglas and Denver counties, as well as western Arapahoe and southwest Adams counties.Most of Weld and Boulder counties, along with the remainder of eastern Larimer County, moved from drought-free to abnormally dry conditions. Two weeks ago, much of Baca County and eastern Las Animas County also moved into abnormally dry conditions. Baca County returned to drought-free conditions last week.
Colorado's river basins are showing mixed conditions. The Yampa and White, Colorado, South Platte and Arkansas basins are above 100 percent of the median snow water equivalent for this time of year. The North Platte basin stands at 99 percent, and the Gunnison basin is at 94 percent. The San Miguel, Dolores, Animas, and San Juan basin and Upper Rio Grande basin are in the mid- to upper 70 percent range. As a whole, Colorado stands at 94 percent of median.
Overall, 15 percent of Colorado was drought-free, down from 18 percent last week. Abnormally-dry conditions were unchanged at 16 percent of the state. Moderate drought increased from 11 percent to 15, while severe drought increased from 28 percent to 29. Extreme conditions were down one percent to 15, while exceptional drought was unchanged at 11 percent.
Drought categories include (ranked from least to most severe) abnormally dry, moderate, severe, extreme and exceptional drought.
Colorado Drought by the Numbers

Week

Date

None

D0

D1

D2

D3

D4

Current

1/8/19

15

16

15

29

15

11

Last Week

1/1/19

18

16

11

28

16

11

3 Months Ago

10/9/18

17

13

11

18

28

14

Start of Calendar Year

1/1/19

18

16

11

28

16

11

Start of Water Year

9/25/18

14

14

8

16

32

16

One Year Ago

1/9/18

1

24

54

22

0

0