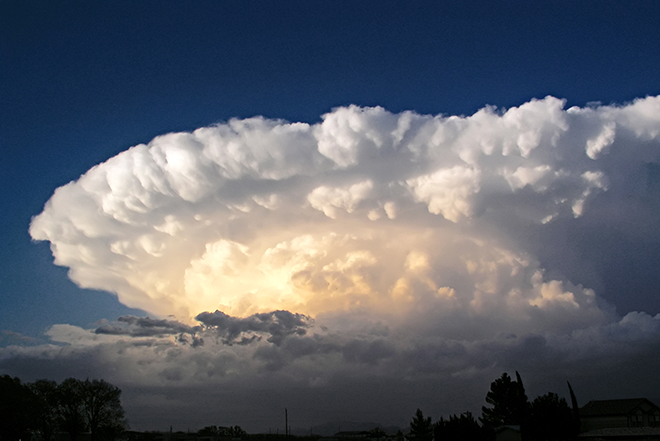 Published
Saturday, September 30, 2017
Seasonal changes in the weather pattern are bringing a wide range of conditions over the coming days as western Colorado looks for snow while parts of the southeast plains will see highs in the 80s.
Eastern Plains
Temperatures are warmer Saturday follow a week that saw clouds and rain across the area. Lamar and La Junta will see upper 70s, while most of the remaining area will be in the low to mid-70s, with a few pockets of upper 60s. Storms are expected to develop later in the day, with some becoming strong and capable of producing hail along with gusty winds. Northeast Colorado storms could be severe and produce one-inch hail. Storms should end by mid- to late evening.
Closing out the weekend and starting the work week, southeast Colorado will remain relatively warm, with daytime highs ranging from the mid-70s to low 80s, cooling slightly Tuesday. Northeast Colorado can expect a sharper drop off, as temperatures in the 50s take hold Monday and Tuesday.
West Slope
A disturbance passing through western Colorado Saturday is bringing scattered showers and thunderstorms to the area. The risk for thunderstorms increases into the evening hours and overnight, with locally heavy rain.
Unsettled conditions continue into Sunday and the start of the work week. Higher elevations may see snow, especially areas north of Interstate 70 as a cold front stalls over the area. The snow level is expected to drop to 8,000 feet with much cooler air coming in. Combined with abundant moisture, moderate to heavy snowfall is a possibility, with potential for 4 - 8 inches of snow above 9,000 feet.
Over the coming days, lower elevations can expect temperatures mainly in the 60s and 70s during the day, falling to the 40s overnight. Craig will be noticeably cooler starting Sunday, as highs range from the mid-40s to low 50s.
Weather updates throughout the day can be found at http://KiowaCountyPress.net/weather.
Forecast - September 30 - October 3

Saturday

Sunday

Monday

Tuesday

City

High

Low

High

Low

High

Low

High

Low

Eads

74

50

81

47

76

50

68

48

Springfield

71

57

80

54

80

55

73

53

Trinidad

70

53

75

50

75

51

70

51

Limon

70

45

74

42

62

43

59

42

Sterling

76

47

71

43

58

42

55

42

Fort Morgan

77

47

73

45

56

42

56

43

Craig

62

41

52

31

45

31

56

34

Grand Junction

67

46

68

43

61

42

68

47

Montrose

60

46

70

44

66

43

70

47

Cortez

70

44

71

42

70

41

70

45