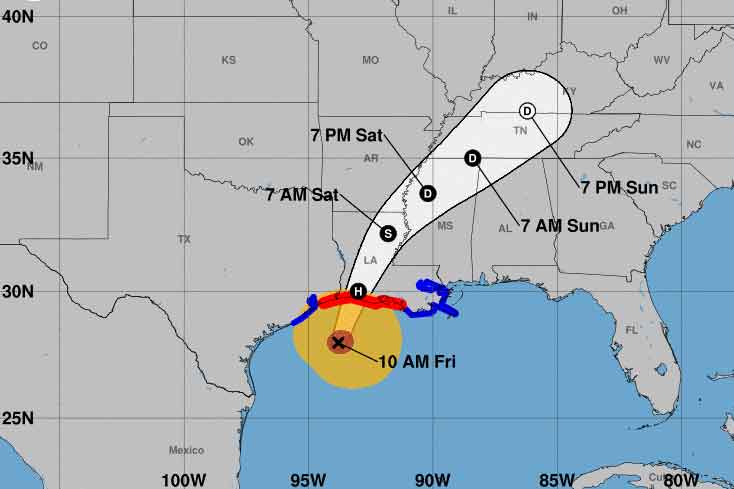 Published
Friday, October 9, 2020
(The Center Square) - Hurricane Delta is expected to make landfall Friday in southwest Louisiana in almost the same location where Hurricane Laura came ashore in late August, forecasters said Thursday.
"It is very clear that southwest Louisiana will get more of a punch from this storm than we would like to see," Gov. John Bel Edwards said.
Delta is expected to be at least a strong Category 2 when it arrives on shore, bringing wind gusts of up to 110 miles per hour to a region where many structures already are in disrepair and debris, despite post-Laura cleanup efforts, still is on the ground. The storm's wind field could extend 140 miles from its center, and hurricane-force gusts could be felt as far east as Baton Rouge, Benjamin Schott with the National Weather Service said.
Storm surge could reach as high as 11 feet where the winds are strongest. Rainfall is less of a threat, partly because Delta is moving so quickly, though the storm still could drop as much as 15 inches in certain isolated areas, forecasters say.
Though Delta's path could change slightly, it is most likely to reach land between Lake Charles and Lafayette. Mandatory evacuations have been called for all of Allen, Beauregard, Calcasieu, Cameron and Jefferson Davis parishes and portions of Iberia, Jefferson, St. Mary, Terrebonne and Vermilion parishes, Edwards said.
He said parishes have opened congregant shelters, albeit with distancing guidelines in place to decrease the risk of spreading COVID-19. The large state-run shelter in Alexandria also will be open, though officials plan to transition evacuees to hotel rooms as quickly as possible.
Edwards said more than 2,400 members of the National Guard have been mobilized. Buses for residents who need help evacuating are staged in Calcasieu, Iberia, Lafayette and East Baton Rouge parishes.
All state offices will be closed Friday.
As of 4 p.m. Thursday, Hurricane Delta was about 345 miles south of Cameron, moving northwest at 12 miles per hour with sustained winds up to 115 miles per hour, according to the National Hurricane Center. A hurricane warning was in effect from High Island, Texas to Morgan City, Louisiana, while the tropical storm warning extended east to the mouth of the Pearl River and New Orleans.
A storm surge warning was in effect from High Island to Ocean Springs, Mississippi.