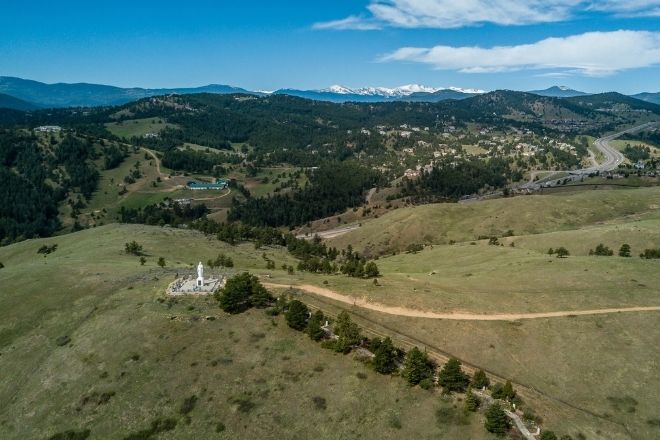 Published
Sunday, November 15, 2020
Every once in a while, we all need a little something to restore our faith in humanity. Luckily, we live amongst an eclectic sampling of culture, art, and history, where we can feel peace and get new perspectives. Rejuvenate yourself with a day trip to some of the top spots in Colorado for spiritual inspiration.
Air Force Academy Cadet Chapel
"Chapel" doesn't begin to describe the soaring steel, aluminum, and glass contemporary architecture that houses this tribute to world religions. Different areas are devoted to Protestant, Catholic, Buddhist, and Jewish believers, with another room reserved for nondenominational worship. The chapel's spires stretch 150 feet into the sky, and the stained-glass windows pay homage to centuries of tradition.
Crestone
Guarded by the Sangre DeCristo mountains, Crestone was regarded by Native Americans to be a holy, neutral ground where warring tribes could meet without fear. In the seventies, Crestone embraced its destiny and began to welcome faiths of all kinds. Now it's home to a tapestry of more than two dozen retreat centers and sacred landmarks. It's populated by worshippers of Buddhism, Hinduism, Christianity, New Age, and Native American traditions. The locals also worship nature, with all kinds of alternative homes that exist in harmony with the environment.
The Great Stupa of Dharmakaya
Standing 108 feet tall, this concrete stupa is one of the most famous examples of sacred Buddhist architecture. Gracing the Shambhala Mountain Center in Red Feather Lakes, she represents wisdom, blessings, and energetic balance. The stupa's name, "Which Liberates Upon Seeing," has set many visitors on a path to enlightenment.
Mother Cabrini Shrine
It's a long walk up the outdoor staircase, but the 22-foot-tall statue of the Sacred Heart of Jesus is worth the effort. The mountaintop outside Golden is a popular pilgrimage for the descendants of the site's original orphanage. Mother Cabrini is now celebrated on the first Monday in October--the first paid state holiday in America that recognizes a woman.
Garden of the Gods
Nowhere is nature as profound and powerful as in Colorado Springs, where the rocks represent a spiritual grounding and connection to the heavens. The Three Graces are a trinity of glorious formations that suggest a cathedral, while Balanced Rock proves that the only thing limiting you is gravity. The 1.1-mile Central Garden Trail is an unforgettable journey.
Until you can make it to one of the top spots in Colorado for spiritual inspiration, you can always just walk out your door for a reminder of the miracles of nature. The mountains may make you feel small, but it's comforting to know that there's something much bigger than you out there.