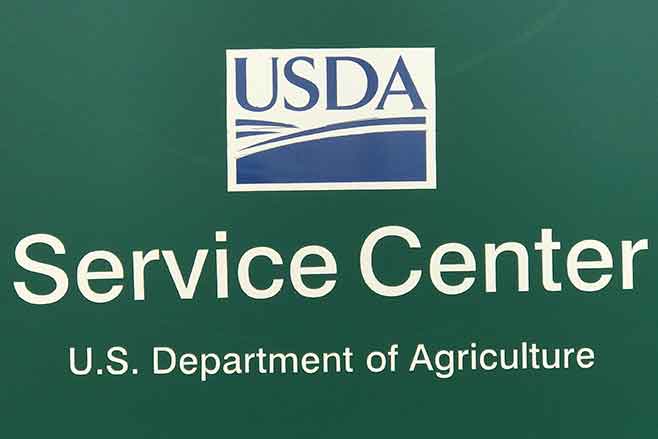 Published
Tuesday, December 7, 2021
Important Dates to Remember
DECEMBER 8 - County Committee ballot count
DECEMBER 17, 2021 - NRCS DEADLINE PRODUCER SIGNED CRP GRASSLANDS CONSERVATION PLANS DUE TO FSA.
JANUARY 30, 2022 - 2021 LIVESTOCK FORAGE PROGRAM - January 31, signup deadline.
MARCH 15, 2022 - 2022 ARCPLC Election and Enrollment Deadline
Disclaimer: Information in this UPDATE is pertinent to Kiowa County FSA only. Producers reading this and that do not have FSA interest in Kiowa County are advised to contact their local FSA Office.
THE USDA SERVICE CENTER HAS A DROP BOX AVAILABLE ON THE EAST SIDE OF THE BUILDING.
COVID-19 UPDATE - The USDA Service Center received instructions last week that all customers visiting any Service Center will be required to wear a mask, regardless of vaccination status.
2022 ARCPLC ELECTION and ENROLLMENT
A few weeks ago, the FSA Office sent out postcards urging operators to schedule an appointment for 2022 ARCPLC election and enrollment. The office hasn't received many phones calls to schedule an appointment. The deadline for election and enrollment is March 15, 2022, which is 3 months away however for FSA that doesn't leave much time to complete this type of large workload. As the postcard stated, currently there are no projected 2022 PLC or price loss coverage payments on any commodities: due to the high price of commodities. The 2022 data for ARC-CO benchmark yields is currently not available. ARC-IC election is the only election that is based on production on crops planted on the farm for 2022 crop year. ARC-CO and PLC election is based on current commodity base acres on the farm and not crop planted during the crop year.
CRP GRASSLANDS
Friday, December 17, 2021, is the last day for producers with CRP Grassland contracts to either sign the NRCS Conservation Plan of Operations (CPO) or terminate the existing contract with FSA. Signing the forms with NRCS is the last step in the contract process as FSA has previously approved the legal and binding CRP-1 contract. Terminating the contract prior to signing the NRCS CPO; there will be no liquidated damages assessed to the producer.
When producers are signing the information over at NRCS; it is very important that they understand what documents they are signing, and they read the information prior to signing. As stated previously, these are legal and binding contracts between the producer and USDA for either 10 or 15 years. These contracts will be spot checked and if overgrazing the acreage has occurred and the vegetative cover has not been maintained to NRCS specifications
FSA has been supplied a list of producers wanting cost shares for different watering or fencing projects. FSA will be sending a letter to those producers explaining that the request for cost shares will have to be approved by the County Committee and FSA will need to conduct a cultural resource review. Therefore, producers with cost share requests must not start any project until they receive a letter stating that cost shares have been approved and cultural resources review has been completed. This requirement only applies to producers with outstanding requests for cost share assistance; producers who will be completing projects without cost share requests can begin projects.
COLORADO FSA STATE EXECUTIVE APPOINTED
The Biden Administration recently appointed Kent Peppler as the new State Executive Director (SED) for the USDA Colorado Farm Service Agency (FSA). Peppler joined the Colorado FSA team on Nov. 29, 2021.
Peppler is a fourth-generation farmer from Mead, Colorado. He was a member of the Colorado FSA Executive Committee from 1995 to 2000. Additionally, Peppler served briefly as the FSA Assistant State Executive Director and Acting State Executive Director. He also served as a trade advisor on the United States Department of Agriculture Sweeteners Agriculture Trade Advisory Committee (ATAC). Peppler has also served as president of the Colorado Young Farmers Educational Association and the Rocky Mountain Farmers Union. He holds an Associate of Arts degree from Northeastern Junior College and a Bachelor of Arts in Agriculture Education from Colorado State University.
As SED, Peppler will be responsible for overseeing the delivery of FSA programs to agricultural producers in Colorado. These commodity, conservation, credit, and disaster assistance programs ensure a safe, affordable, abundant, and nutritious food, fiber, and fuel supply for consumers.
Farm Service Agency serves farmers, ranchers, foresters, and agricultural partners through the effective, efficient, and equitable delivery of federal agricultural programs. The Agency offers producers a strong safety net through the administration of farm commodity and disaster programs. Additionally, through conservation programs, FSA continues to preserve and protect natural resources and provides credit to agricultural producers who are unable to receive private, commercial credit, including targeted loan funds for beginning, underserved, women and military veterans involved in production agriculture.