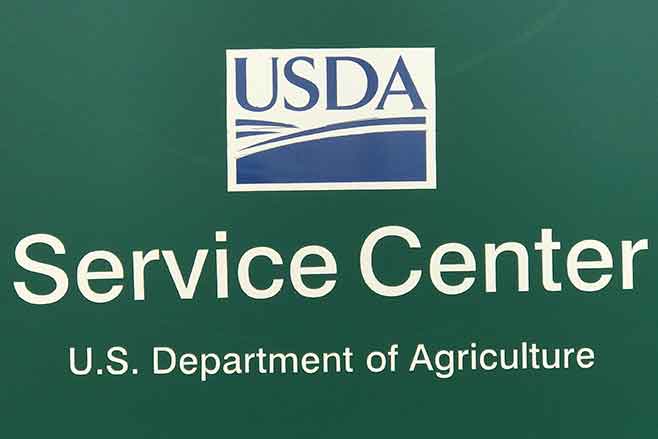 Published
Tuesday, February 1, 2022
IMPORTANT DATES TO REMEMBER:
FEBRUARY 28, 2022 - DEADLINE TO FILE APPLICATION FOR PAYMENT - 2021 LIP 'LIVESTOCK INDEMNITY PROGRAM'.
FEBRUARY 7, 2022 - CSU & FSA ARCPLC DECISION ZOOM MEETING
MARCH 11, 2022 - CRP SIGNUP 58 - DEADLINE TO SUBMIT OFFER FOR CONTRACTS THAT EXPIRE 9-30-2022.
MARCH 15, 2022 - 2022 ARCPLC ELECTION AND ENROLLMENT DEADLINE
Disclaimer: Information in this UPDATE is pertinent to Kiowa County FSA only. Producers reading this and that do not have FSA interest in Kiowa County are advised to contact their local FSA Office.
THE USDA SERVICE CENTER HAS A DROP BOX AVAILABLE ON THE EAST SIDE OF THE BUILDING.
COVID-19 UPDATE - The USDA Service Center received instructions last week that all customers visiting any Service Center will be required to wear a mask, regardless of vaccination status.
CONDOLENCES
FSA employee, Charla Ferris lost her brother unexpectedly this past week. Her brother, David Crow was a friend and confirmed prankster to all and will be sorely missed. Those who knew David were the blessed ones. Keep Charla and her family in your thoughts and prayers as they deal with this loss.
CRP SIGNUP 58
USDA announced general CRP signup will be held from January 31, 2022, through March 11, 2022. Eligible land that is not currently enrolled in CRP may be offered for enrollment during general CRP signup 58; by an eligible producer. In addition, a CRP participant with a contract scheduled to expire on September 30, 2022, may submit an offer for land enrolled under that contract that, if accepted, will have a contract beginning on October 1, 2022. For general CRP signup 58, FSA will use the environmental benefits index (EBI) to rank otherwise eligible offers for selection. Letters were mailed out to producers with expiring contracts on January 26, 2022.
Producers with expiring CRP contracts should have received a letter regarding the options for the expiring acreage. Review the letter with the options available for the expiring acreage.
The following information is pertinent to Kiowa County producers only. Producers who have expiring contracts in another county office; please contact that other office.
SUBMIT AN OFFER IN KIOWA COUNTY
Kiowa County has 402 contracts that expire in September 2022 and there are 2 employees in the office who work directly with CRP. To meet the deadline of March 11, 2022, FSA will need your cooperation. FSA will have conversations with one person on expiring contract(s) with more than one participant; normally that person is the contact person or the listed operator on the farm. FSA will be supplying the maximum rental rate information and environmental points to the contact person. To submit an offer; only one signature is required. If the offer is accepted, then other signatures will be obtained. At this point; if an offer will be submitted, DO NOT CALL THE OFFICE to give us that information. FSA needs to get information regarding maximum rental rate and environmental points on your specific tracts gathered and get that information to the contact person on the expiring contract. When that information is supplied a scheduled appointment will be on the cover letter. It will be the producer's responsibility to call or visit the office on that date and time.
NOT SUBMITTING AN OFFER
If the acres on the expiring contract(s) will NOT be offered for reenrollment; please contact the office. The contract(s) will expire on September 30, 2022, and compliance is with the contract(s) is required until that date.
ARCPLC ELECTION & ENROLLMENT
Last week Charla made contact or attempted to contact all producers who need to make a 2022 ARCPLC election and enrollment. With the announcement of CRP signup; workload will be focused on that program. Producers have been notified and it will be their responsibility to contact the office prior to the March 15, 2022 deadline to make the election and enrollment. All producers with a share are required to sign the contract; therefore if the operator does not have POA for that specific producer; DO NOT WAIT until March 15, 2022. All signatures need to be in the office by March 15, 2022.
CSU EXTENSION & FSA - 2022 ARCPLC DECISION ZOOM MEETING
The March 15, 2022 deadline for farmers to make their ARC/PLC decisions for the 2022 crop year is fast approaching. In an effort to provide growers with the most up to date information needed to make this important decision, CSU Extension and the USDA Farm Service Agency have teamed up to conduct a Farm Bill Decisions webinar.
The webinar will be held Monday, February 7, 2022 from 6:00pm to 8:00pm. Topics to be addressed are the mechanics of ARC/PLC and the limitations of ARC-IC for fruit and vegetable producers, and the payment outlook in 2022 for ARC-CO/PLC for the major program crops in Colorado.
The webinar is free, but you must preregister at this web link https://zoom.us/webinar/register/WN_RoT3TSqsSAalDxHXmYDhzg
For more information or to get a copy of the registration link, contact Brent Young at brent.young@colostate.edu or 970-580-2204.
ARCPLC Web-Based Decision Tools
Producers who need assistance in making the right election for their operation and are unable to join the zoom meeting also have the following web-based tools available to assist in the decision making.
In partnership with USDA, the University of Illinois and Texas A&M University offer web-based decision tools to assist producers in making informed, educated decisions using crop data specific to their respective farming operations.
Tools include the following and can be located on Farmers.gov website:
Gardner-farm doc Payment Calculator, a tool available through the University of Illinois allows producers to estimate payments for farms and counties for ARC-CO and PLC.
ARC and PLC Decision Tool, a tool available through Texas A&M tallows producers to estimate payments and yield updates and expected payments for 2022.
Crop Insurance Considerations
ARC and PLC are part of a broader safety net provided by USDA, which also includes crop insurance and marketing assistance loans.
Producers are reminded that ARC and PLC elections and enrollments can impact eligibility for some crop insurance products.
Producers on farms with a PLC election have the option of purchasing Supplemental Coverage Option (SCO) through their Approved Insurance Provider; however, producers on farms where ARC is the election are ineligible for SCO on their planted acres for that crop on that farm.
Unlike SCO, the Enhanced Coverage Option (ECO) is unaffected by an ARC election. Producers may add ECO regardless of the farm program election.
Upland cotton farmers who choose to enroll seed cotton base acres in ARC or PLC are ineligible for the stacked income protection plan (STAX) on their planted cotton acres for that farm.