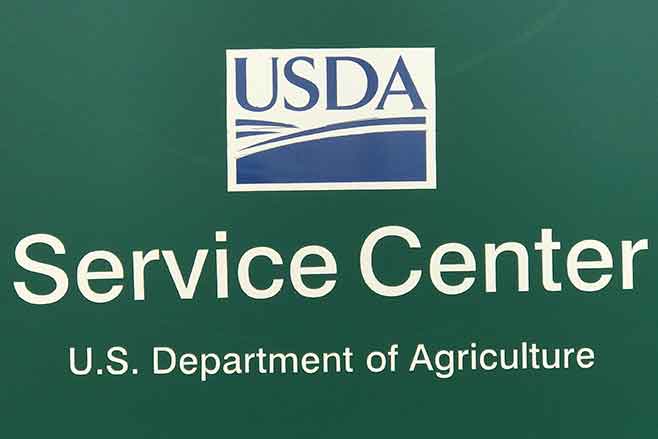 Published
Monday, January 24, 2022
IMPORTANT DATES TO REMEMBER
JANUARY 31, 2022 - 2021 LIVESTOCK FORAGE PROGRAM APPLICATION DEADLINE
FEBRUARY 28, 2022 - DEADLINE TO FILE APPLICATION FOR PAYMENT - 2021 LIP 'LIVESTOCK INDEMNITY PROGRAM'.
FEBRUARY 7, 2022 - CSU & FSA ARCPLC DECISION ZOOM MEETING
MARCH 15, 2022 - 2022 ARCPLC ELECTION AND ENROLLMENT DEADLINE
Disclaimer: Information in this UPDATE is pertinent to Kiowa County FSA only. Producers reading this and that do not have FSA interest in Kiowa County are advised to contact their local FSA Office.
THE USDA SERVICE CENTER HAS A DROP BOX AVAILABLE ON THE EAST SIDE OF THE BUILDING.
COVID-19 UPDATE - The USDA Service Center received instructions last week that all customers visiting any Service Center will be required to wear a mask, regardless of vaccination status.
Farmers.gov Feature Helps Producers Find Farm Loans that Fit Their Operation
Farmers and ranchers can use the Farm Loan Discovery Tool on farmers.gov to find information on USDA farm loans that may best fit their operations.
USDA's Farm Service Agency (FSA) offers a variety of loan options to help farmers finance their operations. From buying land to financing the purchase of equipment, FSA loans can help.
USDA conducted field research in eight states, gathering input from farmers and FSA farm loan staff to better understand their needs and challenges.
How the Tool Works
Farmers who are looking for financing options to operate a farm or buy land can answer a few simple questions about what they are looking to fund and how much money they need to borrow. After submitting their answers, farmers will receive information on farm loans that best fit their specific needs. The loan application and additional resources also will be provided.
Farmers can download application quick guides that outline what to expect from preparing an application to receiving a loan decision. There are four guides that cover loans to individuals, entities, and youth, as well as information on microloans. The guides include general eligibility requirements and a list of required forms and documentation for each type of loan. These guides can help farmers prepare before their first USDA service center visit with a loan officer.
Farmers can access the Farm Loan Discovery Tool by visiting farmers.gov/fund and clicking the "Start" button. Follow the prompts and answer five simple questions to receive loan information that is applicable to your agricultural operation. The tool is built to run on any modern browser like Chrome, Edge, Firefox, or the Safari browser, and is fully functional on mobile devices. It does not work in Internet Explorer.
About Farmers.gov
In 2018, USDA unveiled farmers.gov, a dynamic, mobile-friendly public website combined with an authenticated portal where farmers will be able to apply for programs, process transactions, and manage accounts.
The Farm Loan Discovery Tool is one of many resources on farmers.gov to help connect farmers to information that can help their operations. Earlier this year, USDA launched the My Financial Information feature, which enables farmers to view their loan information, history, payments, and alerts by logging into the website.
USDA is building farmers.gov for farmers, by farmers. In addition to the interactive farm loan features, the site also offers a Disaster Assistance Discovery Tool. Farmers can visit farmers.gov/recover/disaster-assistance-tool#step-1to find disaster assistance programs that can help their operation recover from natural disasters.
Kiowa County FSA Service Center does not have a Farm Loan presence in the office. For information regarding FSA Farm Loan, contact Mary or Nicole @ Prowers County USDA Service Center at 719-336-3437 or visit farmers.gov.
CSU EXTENSION & FSA - 2022 ARCPLC DECISION ZOOM MEETING
The March 15th deadline for farmers to make their ARC/PLC decisions for the 2022 crop year is fast approaching. In an effort to provide growers with the most up to date information needed to make this important decision, CSU Extension and the USDA Farm Service Agency have teamed up to conduct a Farm Bill Decisions webinar.
The webinar will be held Monday, February 7th from 6:00pm to 8:00pm. Topics to be addressed are the mechanics of ARC/PLC and the limitations of ARC-IC for fruit and vegetable producers, and the payment outlook in 2022 for ARC-CO/PLC for the major program crops in Colorado.
The webinar is free, but you must preregister at this web link https://zoom.us/webinar/register/WN_RoT3TSqsSAalDxHXmYDhzg
For more information or to get a copy of the registration link, contact Brent Young at brent.young@colostate.edu or 970-580-2204.
ARCPLC Web-Based Decision Tools
Producers who need assistance in making the right election for their operation and are unable to join the zoom meeting also have the following web-based tools available to assist in the decision making.
In partnership with USDA, the University of Illinois and Texas A&M University offer web-based decision tools to assist producers in making informed, educated decisions using crop data specific to their respective farming operations.
Tools include the following and can be located on Farmers.gov website:
Gardner-farm doc Payment Calculator, a tool available through the University of Illinois allows producers to estimate payments for farms and counties for ARC-CO and PLC.
ARC and PLC Decision Tool, a tool available through Texas A&M tallows producers to estimate payments and yield updates and expected payments for 2022.
Crop Insurance Considerations
ARC and PLC are part of a broader safety net provided by USDA, which also includes crop insurance and marketing assistance loans.
Producers are reminded that ARC and PLC elections and enrollments can impact eligibility for some crop insurance products.
Producers on farms with a PLC election have the option of purchasing Supplemental Coverage Option (SCO) through their Approved Insurance Provider; however, producers on farms where ARC is the election are ineligible for SCO on their planted acres for that crop on that farm.
Unlike SCO, the Enhanced Coverage Option (ECO) is unaffected by an ARC election. Producers may add ECO regardless of the farm program election.
Upland cotton farmers who choose to enroll seed cotton base acres in ARC or PLC are ineligible for the stacked income protection plan (STAX) on their planted cotton acres for that farm.
KIOWA COUNTY FARM SERVICE AGENCY COUNTY COMMITTEE
Michael Zimmerman - LAA 3 - West area - Committee Chairperson
Sean Harkness - LAA 1 - East area - Committee Vice-Chairperson
Destiny Haase - LAA 2 - Central area - Committee Regular Member
USDA SERVICE CENTER CONTACT INFORMATION
409 E Lowell Ave.
PO Box 188 - Eads, CO 81036
Telephone 719-438-5851 FSA (Ext 2), NRCS (Ext 3). FSA Fax number: fax2mail 844-332-7501
FSA - Farm Service Agency
NRCS - Natural Resource Conservation Service
KIOWA COUNTY FARM LOAN CONTACT INFO - CALL FOR AN APPOINTMENT
Telephone 719-336-3437 (ext2)
SERVICE CENTER OFFICE HOURS:
Monday through Friday - 8:00 a.m. to 4:30 p.m.
RECEIVE USDA INFORMATION
Visit website www.Farmers.gov for up-to-date information for FSA/NRCS programs.
Receive text messages - Text COKiowa to FSANow (372-669) to subscribe. Not currently available in Colorado.
Subscribe to GovDelivery emails: Visit www.fsa.usda.gov/subscribe or contact your local FSA Office.
For information on programs visit our website located at www.fsa.usda.gov or like us on Facebook or follow us on Twitter. USDA is an equal opportunity employer.