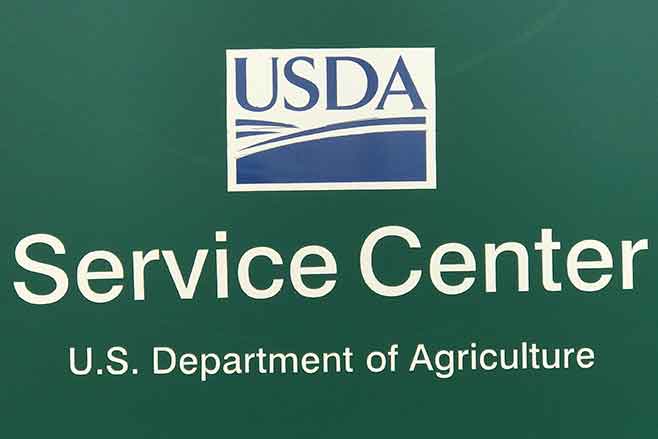 Published
Tuesday, March 12, 2019
Eads USDA Service Center Staff
IMPORTANT DATES TO REMEMBER:
* PURCHASING NAP COVERAGE DEADLINE -March15thfor crops of sorghum forage and common millet.
* FSA Farm Loan personnel in Eads Office - April 9th
* MFP production deadline - May 1, 2019
* COC Meeting - March 19th- 9:00 a.m.
* CRP Primary Nesting Season begins March 15th
Disclaimer: Information in this UPDATE is pertinent to Kiowa County FSA only. Producers reading this and that do not have FSA interest in Kiowa County are advised to contact their local FSA Office.
NAP Coverage Deadline - FRIDAY, MARCH 15th
Friday, March 15this the final date to purchase an Application for Coverage for spring planted NAP crops such as feed and common millets. The 2018 Farm Bill increased the application coverage fee to $325.00 per person, per crop, however the FSA offices are only collecting $250.00 until software if undated. The buy-up option is also available, and producers can make that option on paper until software is available. Be reminded, producers who do not purchase coverage timely due to Farm Bill changes cannot complete a late-filed application for coverage. Purchase the coverage by the established deadline to retain eligibility.
REPORTING PLANTED CROP LOSSES
Producers who have crops planted or will be planting that are NOT covered by insurance through Federal Crop Insurance or by FSA's NAP program and could be seeking failed acreage history credit by filing an FSA-476, 'Request for failed acreage history credit' are reminded of the following requirements:
Failed acreage credit must be sought by a producer before:
the crop acreage is destroyed
disposition of the crop
If a crop insurance adjuster or FSA NAP loss adjuster has completed an appraisal and the FSA office has a copy of the appraisal for documentation, the County Committee will in nearly all cases approve the Notice of Loss. However, if there has been no appraisal, FSA must document the condition of the field prior to destruction to approve the failed acreage history request. I cannot stress the importance of this requirement enough, if the initial crop is not deemed failed on the FSA-578, any subsequent crop could possibly not be insurable with crop insurance as Kiowa County has no crops that are approved for double cropping.
Kiowa County NRCS Office
The Eads NRCS Office be open Tuesday - Thursday every week beginning March 5th. There are currently two employees from other offices working in Eads on those three days. If you are traveling a long distance to conduct business at the NRCS Office, call the FSA Office to be certain there will be personnel available.
Kiowa County FSA Committee
Destiny Haase - LAA 2 - Central area - Committee Chairperson
Sean Harkness - LAA 1 - East area - Committee Vice-Chairperson
Michael Zimmerman - LAA3 - West area - Committee Regular Member
USDA SERVICE CENTER CONTACT INFORMATION
409 E Lowell Ave.
PO Box 188 - Eads, CO 81036
Telephone 719-438-5851 FSA (Ext 2), NRCS (Ext 3). FSA Fax number: fax2mail 844-332-7501
KIOWA COUNTY FARM LOAN CONTACT INFO - CALL FOR AN APPOINTMENT
Telephone 719-336-3437 (ext2)
Mary Rhoades, mary.rhoades@co.usda.gov,
Nicole Lubbers, nicole.lubbers@co.usda.gov
SERVICE CENTER OFFICE HOURS:
Monday through Friday - 8:00 a.m. to 4:30 p.m. Friday, by appointment only.
FSA INFORMATION
For information on programs visit our website located at www.fsa.usda.govor like us on Facebook or follow us on Twitter.