Image
USDA Update – May 17, 2021
IMPORTANT DATES TO REMEMBER:
CRP General CRP signup #56 - delayed
CORONAVIRUS FOOD ASSISTANCE PROGRAM – Signup reopened April 5 for at least 60 days. 
ECP – Emergency Conservation Program signup ends May 21, 2021
CRP EMERGENCY GRAZING AVAILABLE – Contact the FSA Office if interested. 
PRIMARY NESTING SEASON - March 15 - July 15
Disclaimer:  Information in this UPDATE is pertinent to Kiowa County FSA only.  Producers reading this and that do not have FSA interest in Kiowa County are advised to contact their local FSA Office. 
THE USDA SERVICE CENTER HAS A DROP BOX AVAILABLE ON THE EAST SIDE OF THE BUILDING.  
CRP SIGNUP CHANGES
FSA offices are currently waiting further instruction and the needed software changes to restart the CRP signup for contracts expiring September 30, 2021 and new offers for CRP.  
MOISTURE RECEIVED
Last Monday night into Tuesday morning most all of Kiowa County received some much-needed moisture.  Here at the Service Center over the two-day period the rain gauge showed 1.32 and in speaking with area producers they all received at a minimum an inch of rain.  Hopefully this is a start to a wet 2021 spring and summer.  
2020 PLC rates 
There were price changes on the projected 2020 Price Loss Coverage or (PLC) rates from April to May 2021.
Producers who elected PLC for crop year 2020; payments, if any will be issued in October 2021. Below are the rates for each commodity showing the projected for April and current projections as of May 12, 2021.
| | | |
| --- | --- | --- |
|   | April  | May |
| Wheat | 0.50 | 0.45 |
| Barley | 0.25 | 0.20 |
| Oats | 0 | 0 |
| Corn | 0 | 0 |
| Grain Sorg.  | 0 | 0 |
| Sunflowers | 0.0030 | 0.0005 |
DROUGHT MONITOR 
The current drought monitor reflects areas of Kiowa, Bent and Prowers counties rated as a D2 - severe drought; with the surrounding areas rated as a D1 – moderate drought.  Last year at this time, the same area was rated as a D3- extreme drought. Let's all hope we continue the current trend and don't see a D3 or D4 rating for a long time. 
Image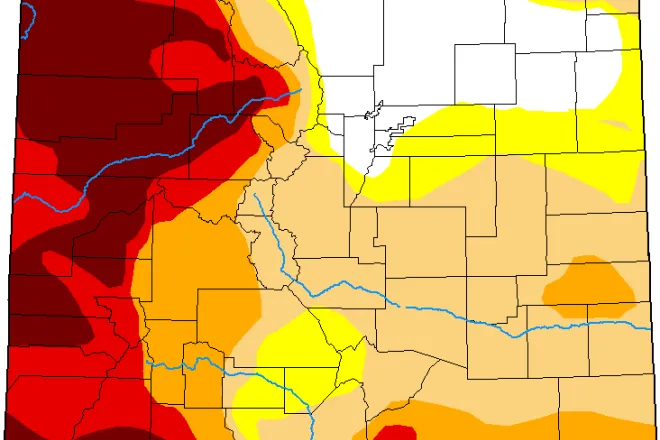 EMERGENCY CRP GRAZING AFTER PRIMARY NESTING SEASON
Most of SE Colorado counties are currently eligible for Emergency grazing CRP acres during the primary nesting season which begins March 15 through July 15.    
Refer to the image of the most recent U.S. Drought Monitor map; published on April 27, 2021 for the intensity of drought in the area.  The Drought Monitor plays a vital role in eligibility for Emergency Haying and Grazing after primary nesting season – which will begin July 15, 2021. 
However, after the primary nesting season; which will be July 16; eligibility for continued Emergency grazing changes.  
The main county eligibility requirement after July 15 is - 
All or any part of the county in which the CRP acreage is physically located is in a D2 (severe drought) or greater according to the US Drought Monitor.
            KIOWA COUNTY FARM SERVICE AGENCY COUNTY COMMITTEE
Michael Zimmerman – LAA3 – West area – Committee Chairperson
Sean Harkness – LAA 1 – East area – Committee Vice-Chairperson
Destiny Haase - LAA 2 – Central area – Committee Regular Member
USDA SERVICE CENTER CONTACT INFORMATION
409 E Lowell Ave.
PO Box 188 – Eads, CO  81036
Telephone 719-438-5851 FSA (Ext 2), NRCS (Ext 3). FSA Fax number: fax2mail 844-332-7501
FSA - Farm Service Agency  
NRCS – Natural Resource Conservation Service
KIOWA COUNTY FARM LOAN CONTACT INFO – CALL FOR AN APPOINTMENT
Telephone 719-336-3437 (ext2) 
Mary Rhoades, mary.rhoades@usda.gov,
Nicole Lubbers, nicole.lubbers@usda.gov
SERVICE CENTER OFFICE HOURS:  
Monday through Friday - 8:00 a.m. to 4:30 p.m.  
RECEIVE FSA INFORMATION
Visit website www.Farmers.gov  for up to date information on the 2018 Farm Bill.
Receive text messages - Text COKiowa to FSANow (372-669) to subscribe.
Subscribe to GovDelivery emails:  Visit www.fsa.usda.gov/subscribe  or contact your local FSA Office. 
For information on programs visit our website located at www.fsa.usda.gov or like us on Facebook or follow us on Twitter. 
USDA is an equal opportunity employer.