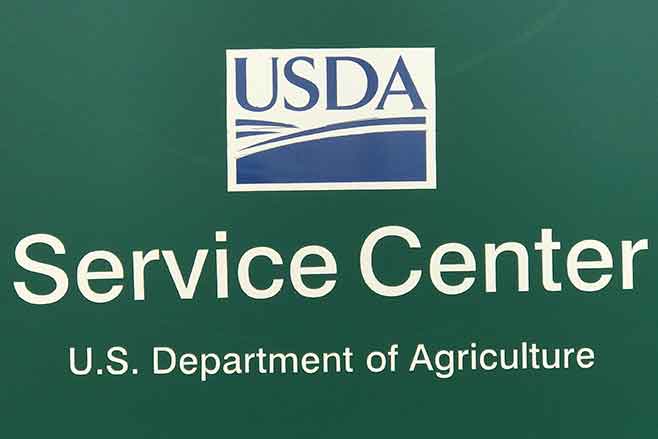 Published
Tuesday, October 26, 2021
IMPORTANT DATES TO REMEMBER:
NOVEMBER 15, 2021 - 2022 Fall acreage certification date.
DECEMBER 1, 2021 - Noninsured Assistance Program (NAP) application for coverage deadline - native grass
DECEMBER 6, 2021 - DEADLINE TO RETURN COUNTY COMMITTEE BALLOT
JANUARY 30, 2022 - 2021 LIVESTOCK FORAGE PROGRAM - January 31, signup deadline.
Disclaimer: Information in this UPDATE is pertinent to Kiowa County FSA only. Producers reading this and that do not have FSA interest in Kiowa County are advised to contact their local FSA Office.
THE USDA SERVICE CENTER HAS A DROP BOX AVAILABLE ON THE EAST SIDE OF THE BUILDING.
COVID-19 UPDATE - The USDA Service Center received instructions last week that all customers visiting any Service Center will be required to wear a mask, regardless of vaccination status.
FALL HARVEST
It's been good to see combines cutting the corn, milo, and sunflowers this year and the grain carts and semis hauling the crop from the field. The price and yields are also good; not often do producers in this area get yields and price in the same year.
For many it's been a long harvest, but we all remember the years with little to no harvest due to drought conditions. We have much to be thankful this year; we wish you all continued safety as your complete harvest.
2021 LIVESTOCK FORAGE ASSISTANCE PROGRAM or LFP
Kiowa County and most all counties in Colorado were eligible for 2021 LFP on January 1, 2021 to drought designation and other eligibility factors that were changed to make Kiowa and other Colorado counties eligible. The changes will affect eligibility for 2021 only.
This designation does make producers in the county eligible for Livestock Forage Program or LFP for a 5-month payment.
The Kiowa County FSA Office began accepting applications for 2021 LFP last week and will continue to do until signup ends on January 31, 2022. The office currently has a questionnaire that producers need to complete; for the office to complete the LFP application. Due to rise in active COVID-19 cases in the county; the FSA office is required to limit visitors to the office. The office can email the questionnaire; producers can complete it and return it to the drop box or by email or call into the office with the needed information. The application process can be completed in the same manner.
The office will need to know the number of head that were grazing eligible grazing land as of January 1, 2021. This can include weaned livestock that was still in inventory. Applying for LFP is a self-certification; however, the County Committee can request any records to substantiate the number of livestock claimed.
Eligible producers:
To be eligible for LFP, persons or legal entities must be a U.S. citizen, resident alien, partnership of U.S. citizens, or a legal entity organized under State law that:
Own, cash or share lease, or be a contract grower of covered livestock during the 60 calendar days before the beginning date of a qualifying drought or fire.
Provide pastureland or grazing land for covered livestock, including cash-rented pastureland or grazing land as of the date of the qualifying drought or fire that is either: - Physically located in a county affected by a qualifying drought during the normal grazing period for the county; and
Timely file an acreage report for all grazing land for which a grazing loss is being claimed.
Payments:
FSA will calculate LFP payments for an eligible livestock producer for grazing losses because of a qualifying drought equal to payment factors of one, three, four or five times the LFP monthly payment rate. The LFP monthly payment rate for drought is equal to 60 percent of the lesser of either the monthly feed cost:
For all covered livestock owned or leased by the eligible livestock producer; or
Calculated by using the normal carrying capacity of the eligible grazing land of the eligible livestock producer.
2020 rates - Beef cows and bulls - $31.89 each, Beef non adult 500# or more - $23.92 each. Calves that are not weened do not qualify.
Example of payment computation.
Livestock: 20 cows and bulls - $31.89 x 20 = 637.80
Forage: 400 acres native pasture - 400 / 24 (Kiowa animal unit per acre) = 16.66 x $31.89 = 531.51
FSA will pay on lesser of livestock or forage information, in this example it will be the forage of $531.51 x 3 (months qualified) x 60% (national payment reduction factor) = 956.72.
Eligible livestock must:
Have been owned, purchased or entered into a contract to purchase during the 60 days prior to the beginning date of a qualifying drought or fire condition.
Have been held by a contract grower or sold or otherwise disposed of due to a qualifying drought condition during the current production year or one or both two production years immediately preceding the current production year.
Have been maintained for commercial use as part of a farming operation on the beginning date of the eligible drought or fire condition.
Not have been produced and maintained for reasons other than commercial use as part of a farming operation (such excluded uses include, but are not limited to, wild free-roaming animals or animals used for recreational purposes such as pleasure, hunting, pets, roping or for show); and
Not have been livestock that were or would have been in a feedlot on the beginning date of the qualifying drought or fire as part of the normal business operation of the livestock owner or contract grower.
ELIGIBLE GRAZING LAND
The following are considered eligible pastureland and grazing land for grazing losses because of
drought:
privately owned, cash or share leased pasture or rangeland that is used to provide grazing
for covered livestock
State and Federal lands if either of the following apply:


the land is leased on a long-term basis that COC determines requires lessee
contribution, including but not limited to wells, fences, or other maintenance and
upkeep inputs
pasture or grazing land is leased for cash or fixed amount for an established grazing period

previously irrigated grazing land that was not irrigated during the current production year because of lack of surface water due to a qualifying eligible drought condition