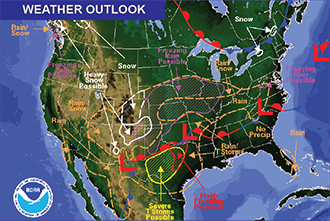 Published
Sunday, January 15, 2017
By Chris Sorensen
After a lull in activity Saturday evening, bands of precipitation are moving south to north across southern Colorado to start Sunday.
Temperatures are expected to remain at or below the freezing mark throughout the day, with bands of freezing rain expected in much of the area. Two- to three-tenths of an inch of ice will build up from the rain, with the highest amounts occurring in Prowers and Baca Counties. Southeast Kiowa County may also see the higher amounts.
At 5:30 a.m., the Colorado Department of Transportation was showing many southeast Colorado highways as having icy conditions. Highway 287 between Kit Carson and Wiley was reported as being dry. Snowplows were active throughout the area; however, some minor highways will not see plows before sunrise. Highways generally have signs indicating areas for which plowing does not take place overnight.
Rain turns to snow Sunday night as the temperature falls into the low to mid-20s. Four to six inches of snow falls on top of a layer of ice over most of the plains. Six to eight inches of snow are expected in Las Animas County.
Snow will continue Monday, gradually changing to rain as the temperature rises into the 30s. Precipitation will diminish later in the day. Originally expected to be significantly stronger, wind will be out of the north at 10 to 15 miles-per-hour.
A warm up starts Tuesday as a high-pressure system, currently over the west coast, crosses the area. High temperatures will be in the 40s to low 50s through Saturday.
KiowaCountyPress.net now offers a free forecast update emailed to you each morning around 6:00 a.m. To begin receiving forecast updates, send an email to kiowacountypressweather+subscribe@googlegroups.com for quick signup process. Then, just reply to the message sent back to you to confirm your email address, and you're done! You'll start receiving the weather forecast the next morning. There's no cost, and you can unsubscribe any time.