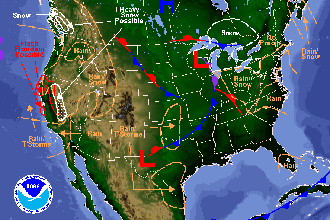 Published
Friday, March 4, 2016
While high temperatures will fluctuate, spring-like weather continues through the weekend in Kiowa County.
Friday's high will be around 70, accompanied by 10 to 20 mile per hour north winds which will be strongest in the afternoon. There may be a few hours in the afternoon where conditions approach critical fire weather.
Saturday will be cooler, with highs in the low 60s and continuation of 10 to 20 mile per hour wind shifting to the south.
Sunday will be the warmest day of the week, with a high in the mid-70s, and winds will weaken slightly.
Evening temperatures throughout the weekend are expected to remain in the low to mid-30s.
For the week ahead, watch for a slight chance of rain Monday and a return of 10 to 20 mile per hour winds, with a high near 65.
Days will be mostly sunny with highs in the 60s and lows in the upper 20s through Thursday.