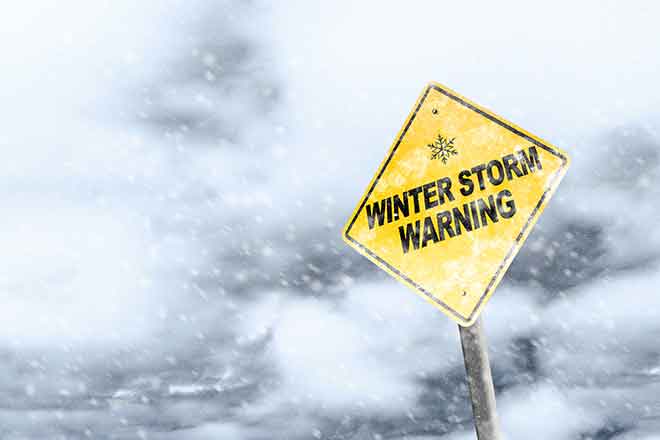 Published
Saturday, February 13, 2021
Note: This article has been updated to reflect new forecast information.
Most of eastern Colorado, including Kiowa County, can expect temperatures well below freezing and snow this weekend according to the latest information from the National Weather Service Saturday morning.
A winter weather advisory is in effect Saturday through Sunday evening for most eastern plains' counties, along with wind chill advisories and warnings as temperatures plunge below zero. Shortly after 12:00 p.m. Saturday, the winter weather advisory for Kiowa, Bent, Prowers and Baca counties was upgraded to a winter storm warning which will begin at 5:00 p.m. and continue until 5:00 p.m. Sunday. Cheyenne and Kit Carson were added to the warning.
In Kiowa County, snow is expected to start in the late afternoon, bringing less than an inch during the day. Overnight, snowfall ramps up, with four to eight inches possible in the western and central portions of the county, including Haswell and Eads. Sheridan Lake in the eastern portion of the county can look for three to five inches. An additional inch is possible Sunday.
Saturday's high across the county will be in the single digits, falling to the negative single digits overnight and remaining there during the day Sunday. Sunday night turns even colder, falling to around -18 in western Kiowa County and -22 closer to the Kansas border. Temperatures across the remainder of eastern Colorado will be similar. Front range metro areas were added to the wind chill advisory shortly after noon Saturday.
Temperatures are not expected to rise above the freezing mark in Kiowa County until Thursday, when mid-30s are forecast.
While wind across the county is expected to be light, generally below 10 miles per hour, the low temperatures create concerns about wind chill. A wind chill advisory is in effect through midday Monday with values of -20 to -35 possible late Saturday through Sunday night in Kiowa County.
Cheyenne, Kit Carson and Yuma counties are under a wind chill warning through Monday. The warning extends into much of western Kansas.
The combination of wind and very cold temperatures contributes to conditions where frostbite could damage exposed skin in minutes. The NWS strongly recommends wearing appropriate clothing, including a hat a gloves, if a person must go outside.
In western Colorado, wind chill is not currently expected to be a factor, however much of the region can still expect snow over the coming days. Mountain areas could see eight to 18 inches of new snow, with some ranges in the far southwest potentially receiving up to two feet of snow at the highest elevations. Winter weather advisories and winter storm warnings cover much of western Colorado this weekend.
Driving conditions are expected to be impacted through the weekend, with icy, snowy or snow packed road possible across the state. Shortly after 11:00 a.m. Saturday, the Colorado Department of transportation already had more than 140 plows working roads across the state, a number that is like to increase dramatically overnight. CDOT provides road conditions information at https://COTrip.org or by calling 511.
CDOT also offers a variety of winter driving tips, including
Always keep the top half of your gas tank full. It can give you better traction and gives you a bigger margin of error if you get stuck and have to keep the engine running periodically to keep warm.
If you are stuck in a serious storm do not leave your car. Run the engine periodically and wait for help.
Carry blankets, water, a flashlight, a shovel, some nutrition bars or even candy bars for sustenance.
Remember that 4-wheel drive does not mean 4-wheel stop. A four wheel drive vehicle will not stop any better on sheer ice than a 2 wheel drive vehicle.
Be sure of your route. Don't go exploring in the back country without some local knowledge, especially during a storm or when one is bearing down anywhere near your location. The weather can change quickly and violently in the Rocky Mountains and not necessarily only in the heart of winter.
Be sure you have good tires. The colorado state patrol reccomends at least 1/8 of an inch tread depth. All season radials on a front-wheel-drive passenger vehicle are adequate for most situations. Snow tires on most rear wheel drive vehicles are usually adequate. Chain restrictions in colorado are most often put into effect for commercial vehicles (semi's) and usually do not affect passenger vehicles.
In poor visibility or even white-out conditions, don't drive faster than you can see ahead. High speeds in poor or no visibility can lead to large chain reaction accidents. Remember you can't see around mountain curves and corners either.
In addition to Colorado, wind chill advisories and warnings extend across a large portion of the central United States, including Kansas, Oklahoma, Nebraska, Montana, North Dakota, South Dakota, Minnesota, Illinois, Iowa and Missouri.