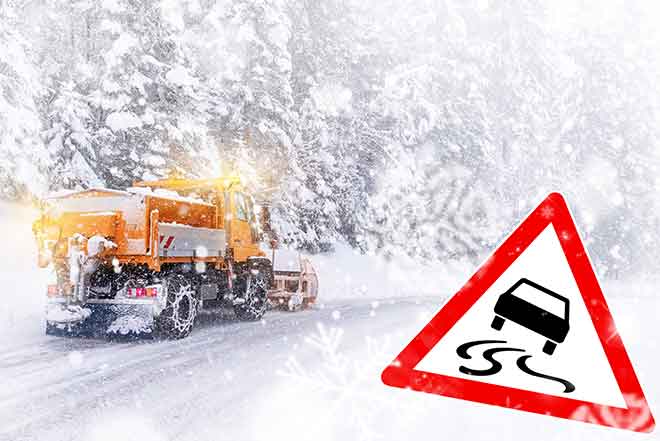 Published
Saturday, February 13, 2021
AccuWeather forecasters warn that days after a deadly ice storm struck the country, a coast-to-coast storm will pack a major punch across a large part of the nation's midsection late this weekend into early next week. The storm has the potential to be bigger and stronger than the ice storm that led to a deadly pileup in Fort Worth and treacherous travel and power outages across areas farther to the south and east in the United States.
"I don't even know what to say about the pattern," AccuWeather Chief On-Air Meteorologist Bernie Rayno declared in his Friday morning podcast, in a rare moment that the weather rendered him speechless, and he added, "It's just storm after storm after storm after storm after storm," followed by a deep sigh.
The storm that will bring the wintry blast, including snow and ice, to the middle of the country first slammed into the Northwest on Friday night, unloading an unusually heavy snowfall in places like Seattle and Portland, Oregon.
"It's going to do a number in the Northwest," Rayno said. Not only will it be the biggest snowstorm of the season, but it'll eclipse average seasonal snow totals for some major cities in the region. And the storm will be far from over at that point. The system is expected to be a true coast-to-coast storm, which may impact more than 190 million Americans as it rampages across the country, potentially impacting 36 different states, over the course of five days.
"Close to 60% of the nation will likely have snow and ice on the ground in the storm's wake by the middle of next week," Rayno said. "This appears to be a significant snowstorm in the Plains."
It will unfold as a major winter storm along a 1,500-mile-long stretch from Colorado, New Mexico and Texas to Tennessee, Kentucky, Ohio and Michigan spanning Saturday night to Monday night. A vast wave of frigid air enveloping the U.S. will be the main culprit behind the tremendous expanse of snow and ice expected with the storm. Temperatures will plunge as much as 40 degrees below normal compared to mid-February averages.
Large stretches of highway and multiple airport hubs in the Central states may be shut down because of the storm, which will unleash a whole spectrum of winter weather hazards ranging from blizzard conditions in some areas to a freeze-up with a buildup of ice in others.
After dumping snow on the Northwest through Saturday, the system is expected to reorganize over Colorado and New Mexico during Saturday night and Sunday with an expanding area of snow, increasing wind and deteriorating travel conditions. During this time, spotty snow and ice are forecast to break out farther to the south and east in portions of Texas, Oklahoma, Louisiana and Arkansas that can lead to areas of black ice and dangerous travel conditions.
Then, as the storm marches into the South Central states from Sunday to Monday, it will strengthen. Portions of Colorado, New Mexico, northwestern Texas, western and central Oklahoma and southwestern Kansas face not only a heavy snowfall with accumulations ranging from 6 to 18 inches from Saturday night to Sunday night, but also strong winds that can blow snow around and create massive drifts and whiteout conditions. An AccuWeather Local StormMax(tm) of 36 inches is projected for the storm in this region.
Ahead of the weekend, Texas Gov. Greg Abbott issued a disaster declaration and Oklahoma Gov. Kevin Stitt declared a weather emergency across their respective states on Friday.
In addition to the heavy snow accumulations, strong winds are forecast from far-western Oklahoma back through southern New Mexico, which will allow the snow to blow around and create massive drifts and whiteout conditions.
The storm is forecast to shift from central Texas on Sunday night towards the Ohio Valley through Monday night, extending the swath of heavy snow eastward.
Some cities in the southern Plains could end up with their typical year's worth of snow with this storm alone.
AccuWeather is projecting a 3- to 6-inch snowfall in Dallas from the storm Sunday into Monday. The city receives an average of 1.6 inches of snow per winter. There are some winters in which little to no snow falls and other winters where only a few inches fall over the course of the entire season. This storm can easily bring multiple seasons' worth of snow all in one shot. Last year, only 0.2 of an inch of snow fell during the entire winter.
In Oklahoma City, a foot of snow is already in the books for the winter, compared to an annual average of 7.6 inches and AccuWeather meteorologists are projecting that 6-10 inches of snow may fall from the storm from Sunday to Sunday night.
Little Rock, Arkansas, is another city that may pick up a season's worth of snow and more from the storm. The Arkansas state capital typically picks up about 3.5 inches of snow on average per year.
St. Louis is likely to double its seasonal snowfall so far, which stood at 4.8 inches as of Friday. The Gateway to the West has missed out on some of the bigger snow events this winter, but this storm may bring the total closer to the seasonal average of about 18 inches. The worst conditions are anticipated to hit from Sunday night to Monday night.
As the storm encounters a more shallow layer of cold air and temperatures within a few degrees of freezing closer to the Gulf Coast, a wintry mix that will include sleet and dangerous freezing rain will affect areas from southern and eastern Texas to a large part of Louisiana from Sunday to Monday.
"Significant icing with the storm is going to make things worst," Rayno explained.
Houston, San Antonio, Austin, Corpus Christi and Port Arthur, Texas, as well as Shreveport, Lake Charles and Monroe, Louisiana, are among the cities that are at risk for a thin glaze to a substantial buildup of ice from the storm on Monday.
Farther south, Brownsville and New Orleans will endure a cold rain from the storm.
Large stretches of highway and multiple airport hubs in the Central states may be shut down because of the storm, which will unleash a whole spectrum of winter weather hazards ranging from blizzard conditions in some areas to a freeze-up with a buildup of ice in others.
The winter weather is bound to cause more delays to shipment and delivery of the COVID-19 vaccine as well as other products, AccuWeather Senior Meteorologist Courtney Travis cautioned. And, as mentioned previously, the storm's impact will not cease as it nears the Mississippi River.
Some of the same areas of the Mississippi, Tennessee and Ohio valleys that were slammed with ice that glazed roads, coated trees and brought down power lines from Wednesday to Thursday are forecast to get hit with another round of ice on Monday and Monday night.
AccuWeather meteorologists are warning that the ice storm that will extend not only across a large part of Texas and Louisiana, but also bring dangerous conditions east of the Mississippi River and all the way to parts of the central Appalachians, mid-Atlantic and New England.