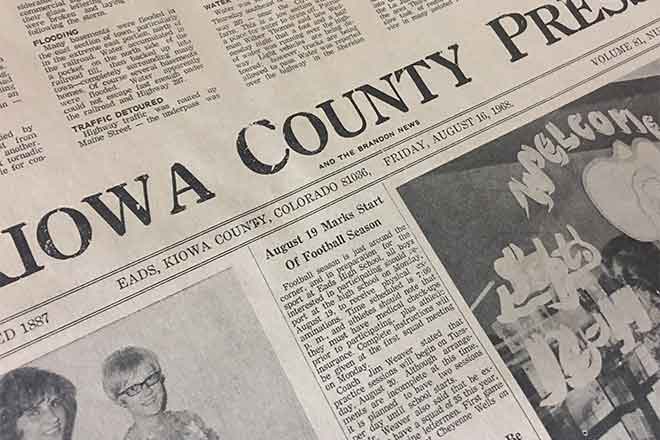 Published
Sunday, November 14, 2021
15 Year Ago
November 17, 2006
USDA Update- Rod Johnson: Kiowa County experienced very strong and gusty winds. Tumbleweeds were leaving the field and piling up in fences and around buildings.
For the first time in 6-man history, the championship game will be held in Eads.
25 Years Ago
November 15, 1996
Ethel Richards, Lil Penn, Debbie Immer, Sandi Jones, Phyllis McDaniel, and student Allison Davis, all from Kiowa County won awards at the Autumn Art Shown in Lamar.
Wild Horse Roundup- Curtis Schrimp: There was an article in the Rocky Mountain News about Wild Horse, and in the article mention some nice things about Lee and I.
Nursing Home News- Nellie Nickert: The thing we hope will never happen did at 3:30 in the morning the fire alarm sounded. After an hour and half of excitement, no one felt like returning to bed.
40Years Ago
November 13, 1981
Plans are well underway for the Community Christmas Cantata.
Kiowa County RE-2 has scheduled a special election to determine if an authorization to increase the revenue base per pupil of attendance entitlement should be granted.
50Years Ago
November 12, 1971
Members of the Eads Chamber of Commerce and two Kiowa County Commissioners heard a plan to seek information on acquiring surplus firefighting equipment for at least three base locations throughout the county.