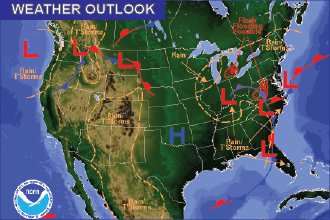 Published
Friday, September 30, 2016
By Chris Sorensen
The second full weekend of autumn continues a mild temperature trend across the area.
Highs will be around 80 for the weekend, with overnight lows in the upper 40s to low 50s. There is a slight chance of showers late Friday night continuing into the early morning hours of Saturday.
Monday will be warmer and windy, with a high in the mid-80s. South winds of 10 to 15 miles-per-hour will start the day, increasing to 20 to 25 mph in the afternoon, continuing into the early evening. Showers and thunderstorms are possible.
Continuing through week, look for daytime highs in the low to mid-70s. By mid-week, overnight lows may drop into the mid-30s as the first frost of the season approaches. Start preparing now to protect sensitive plants at night if temperatures drop further.