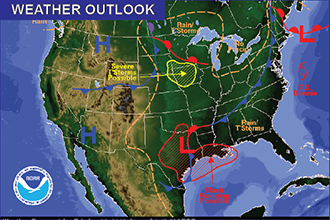 Published
Friday, June 3, 2016
By Chris Sorensen
Kiowa County and most of southeast Colorado can expect warm and mostly dry conditions through the weekend before chances of thunderstorms return early in the week.
An upper level ridge will remain in place through the weekend. Mid-80s can be expected for the high Friday, before a very slight cooling to the low 80s for Saturday and Sunday. Overnight temperatures will range from the upper 40s to low 50.
Generally north winds can be expected in the 5 to 15 mile per hour range. A weak cold front pushing into the area may produce a few gusts to 20 mph Friday.
Looking to the week ahead, a slight chance of showers and thunderstorms moves in Monday afternoon and continues up to midnight, repeating again Tuesday afternoon into the evening. High temperatures will be in the lower 90s at least through Thursday, increasing the fire danger slightly, however conditions are not currently expected to produce a fire weather watch.