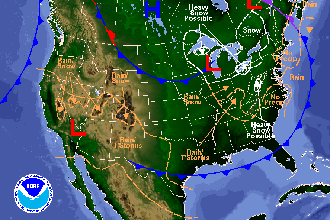 Published
Friday, April 8, 2016
Warm, dry days and cool evenings are in store across the weekend for Kiowa County.
Highs will be in the low to mid-70s Friday through Sunday. Winds will remain light, 5-10 miles per hour, through most of the period - with slightly stronger 15 mph wind Saturday afternoon.
Overnight, temperatures will be in the lower 40s Friday and Saturday, and falling to the upper 30s Sunday night.
An incoming low pressure system may bring some welcome moisture to the area Sunday night into Monday morning, with showers turning to snow in the early morning hours a possibility. Only one-tenth inch is expected overall, however amounts could be higher if thunderstorms develop.
Looking into next week, a series of low pressure systems coming off the Pacific begin to set up a typical spring weather pattern. Although Sunday night currently offers the best chance of precipitation, a system late in the week could bring moisture across the area if it doesn't drift too far north toward Wyoming.
For the first time in more than a month, the week is not expected to start out with elevated fire danger. Highs Monday and Tuesday will be in the mid-50s to low 60s before returning to the 70s later in the week. Monday night will be the coolest of the week, with a low near freezing. Evening lows will continue to rise from there.
Check back Sunday for an updated look at the weather for the week ahead.