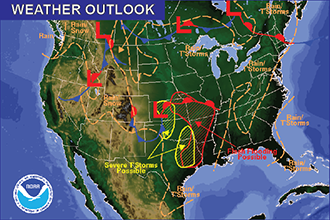 Published
Friday, May 27, 2016
Weekend Weather Outlook
By Chris Sorensen
Showers will continue Friday following a day of intense storms that brought heavy rain, severe straight-line winds that reached 80 miles per hour, and even a few tornadoes to the eastern plains. Thursday's storms were strong enough to cause Highway 287 to close between Eads and Kit Carson due to crashes, and at least one home received significant damage. Highway 40 in Cheyenne County also closed for a time to allow for debris removal.
Showers remain likely before noon Friday before transitioning to the potential for thunderstorms as an upper low pressure system intensifies and moves slowly across the area. One-tenth to one-quarter inch of rain is possible. Wind will be out of the north at 10-15 miles per hour, however some areas may see gusts to 35 mph.
Temperatures will struggle to reach the mid-60s before falling to the mid-40s overnight.
Saturday starts a trend of daytime highs in the upper 70s to low 80s that will continue into the coming week. Overnight lows are expected to be in the upper 40s to low 50s.
Showers and thunderstorms remain possible Saturday night continuing through Tuesday, with the best chance expected Sunday as a disturbance lifts out of New Mexico and makes its way toward Kansas. A dry line is forecast to develop near the Colorado-Kansas border which could produce strong to severe storms.
Check back Sunday for updates and the forecast for the week ahead.