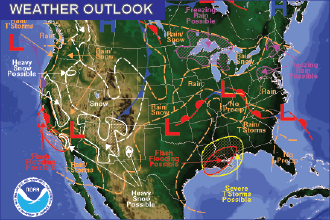 Published
Friday, January 20, 2017
By Chris Sorensen
An upper level disturbance near the Four Corners area is expected to move east across the Colorado plains through the day Friday, bringing snow and rain showers to the area into the afternoon and evening hours.
Friday's high will reach to the upper 30s for Kiowa County. Snow is likely before 1:00 p.m. before changing to rain for a few hours. Snow returns for the late afternoon hours; however, accumulation is expected to be less than one inch - little help for ongoing drought conditions.
Mid-40s return for the weekend along with light winds out of the west. Overnight temperatures will fall to the low 20s.
Looking to the week ahead, Monday is forecast for a high in the low 50s before falling back to around 40 Tuesday, and further dropping to the upper 30s Wednesday and Thursday. Overnight temperatures will mainly be in the 20s to start the week, then dropping to the mid-teens Wednesday.
An upper level trough comes on shore to the west coast Sunday night. A southwest flow across the Four Corners region will draw moisture into western Colorado, potentially bringing more snow to the mountains through the middle of the week. The trough is expected to move across eastern Colorado, producing dry and cool conditions.
KiowaCountyPress.net now offers a free forecast update emailed to you each morning around 6:00 a.m. To begin receiving forecast updates, send an email to kiowacountypressweather+subscribe@googlegroups.com for quick signup process. Then, just reply to the message sent back to you to confirm your email address, and you're done! You'll start receiving the weather forecast the next morning. There's no cost, and you can unsubscribe any time.