Image
What to watch for when you are watching the Super Bowl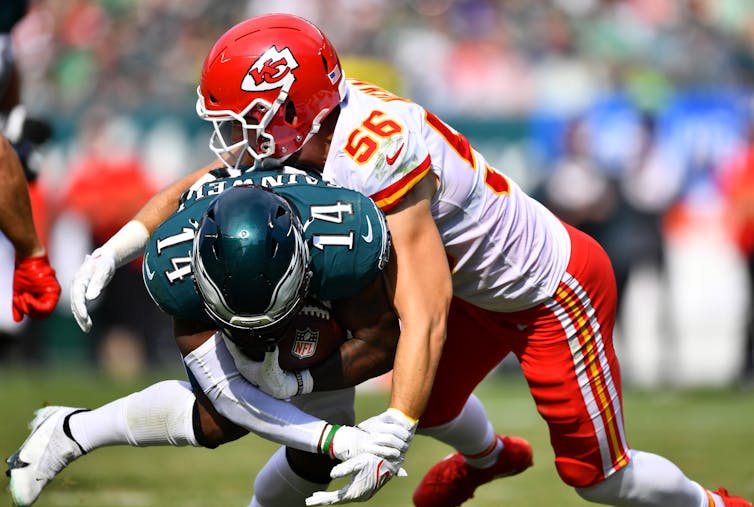 Matt Williams, The Conversation
The Super Bowl – an annual celebration of advertising, calorific bar food, Roman numerals and occasional on-field action – is upon us, again.
At 6:30 EST on Feb. 12, 2023, the Kansas City Chiefs and the Philadelphia Eagles will take the field in Arizona before moments later trundling off for one of the many breaks that are a feature of football.
But there is an upside to all those breaks. It means you can read an article or two from The Conversation's archive. To that end, below is a selection of stories tackling what is happening in the world of football, but not necessarily on the field.
A game of wounded warriors
A specific part of the anatomy of Kansas City star quarterback Patrick Mahomes has been scrutinized in the weeks leader up to the Super Bowl: his right ankle.
You see, despite Mahomes' being more handy with his hands than with his feet, he still needs to be able to move around with some dexterity to be effective – and Mahomes' mobility is a key aspect of his game. And on Jan. 21, 2023, the 27-year-old athlete awkwardly fell after a tackle and sprained his ankle.
But what exactly in an ankle sprain? The University of Pittsburgh's MaCalus V. Hogan, a surgeon who specializes in sports-related ankle injuries, explained that they occur when someone rolls an ankle joint, resulting in the stretching or tearing of ligaments that hold the ankle together.
The good news for Chiefs' fans? Hogan reckons their quarterback will be OK come gametime: "While Mahomes may not be at 100%, given the moderate severity of the injury, his fitness and the high quality of care he is receiving, I expect that he will be ready to play an exciting game come kickoff on Super Bowl Sunday."
Of much more concern are the life-threatening injuries of the sort that afflicted Buffalo Bills safety Damar Hamlin and Miami Dolphins quarterback Tua Tagovailoa earlier in the season.
Both collapsed to the turf after jarring tackles, Hamlin from heart problems, Tagovailoa from a concussion. As paramedics administered treatment on the field, broadcasters faced a dilemma, as Nicole Kraft of The Ohio State University explained.
"When disaster strikes on a live sports broadcast, it's easy to say something wrong, especially in an age where words can be distributed widely, dissected and criticized on social media," wrote Kraft, noting that broadcasters also have a decision to make over whether or not to show replays of the injury.
In the case of Hamlin, ESPN and others behaved responsibly, Kraft concluded. Instead of filling the air with speculation, broadcasters instead appealed to the NFL to suspend the game.
The rise and pitfalls of sports gambling
A subplot of this year's Super Bowl advertising rush is the growing presence of betting companies like DraftKings and FanDuel.
It's only been five years since the Supreme Court opened up legalized sports betting across the states. Since then, "a whole industry has sprouted up that, for tens of millions of fans around the country, is now just part of the show," wrote Penn State's John Affleck. He added: "Betting's seamless integration into American sports – impossible to ignore even among fans who aren't wagering – represents a remarkable shift for an activity that was banned in much of the country only a few years ago."
The damage being done by the explosion of easy-to-bet apps and websites is only just being understood. Lia Nower, director of The Center for Gambling Studies at Rutgers University, has been tasked by New Jersey to evaluate the impact of sports gambling by interviewing gamblers and analyzing every bet placed online in the state since 2018.
She reported that "those wagering on sports in New Jersey were more likely than others who gamble to have high rates of problem gambling and problems with drugs or alcohol, and to experience mental health problems like anxiety and depression. Most alarming, findings suggest that about 14% of sports bettors reported thoughts of suicide, and 10% said they had made a suicide attempt."
It really is time to drop the 'chop'
Kansas City fans inside the State Farm Stadium in Glendale during the Super Bowl might at various points during the game engage in what is known as the "tomahawk chop." Outside the stadium, Native Americans intend to protest. What they want – along with an end to that offensive gesture – is a new name for the franchise.
Such re-branding is not, of course, unheard of. Washington's NFL team dropped its racist moniker in 2020. And last year, the Cleveland Indians changed its name to the Guardians.
But as Peter Dreier of Occidental College noted, not all teams are on board with jettisoning their problematic names. The Atlanta Braves are one team that refuses to move on, sticking with its name, along with its "tomahawk song" and accompanying crowd gesture.
"Today, many fans – not to mention many Native Americans – cringe at the music and the chop. To them, it reflects a stereotypical image of Native Americans as violent and uncivilized, similar to those that appeared on TV and in movies for many years," wrotes Dreier.
Editor's note: This story is a roundup of articles from The Conversation's archives.

Matt Williams, Senior Breaking News and International Editor, The Conversation
This article is republished from The Conversation under a Creative Commons license. Read the original article.