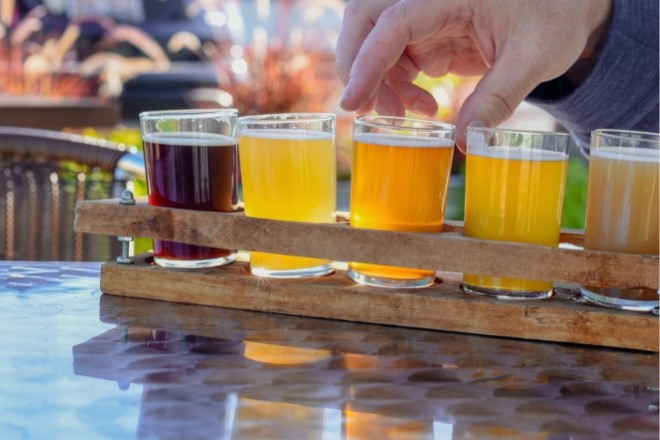 Published
Wednesday, April 10, 2019
The 5th annual Pints & Pools Craft Beer Fest takes place at the Spring Resort & Spa in Pagosa Springs, CO. The festival is a great way to enjoy over 50 beers from Colorado and New Mexico breweries as well as 23 of the state's best geothermal soaking pools.
Now that the seasons are changing, it is time to spend a day socializing with friends and family. Pints & Pools begins Saturday, April 27, and is an excellent way to take advantage of the warm weather. Learn about what you have to look forward to at the upcoming Pints & Pools Craft Beer Fest.
Food Trucks
One of the best things about going to festivals is the food, and Pints & Pools has a great selection of food available. Food will be available for attendees while they soak during the day; attendees can purchase food at the "Canteen" while soaking in the pool area. Once that draws to a close, two food trucks will be stationed in the tasting area from 3 pm to 7 pm.
Music
There is nothing better than an outdoor concert. Pints & Pools offers live music throughout the festival for you and your friends to enjoy.
Beer
The main draw of Pints & Pool is the beer--hence the name. The festival has over 50 craft beers from local Colorado and New Mexico breweries. While beer can be pretty expensive at festivals, Pints & Pool has unlimited beer tasting for only $50.
Pool
Another highlight of the Pins & Pools fest is relaxing in one of the 23 geothermal soaking pools at the exquisite Spring Resort & Spa. The location is surrounded by scenic Colorado mountains and forests that make it a truly breathtaking experience.
Picture this--you're spending time in the sun, enjoying some music and beer, and relaxing in a geothermal pool. What a great way to kick off the summer, right? If you are interested in attending this year's Pints & Pools Craft Beer Fest, tickets are still available.