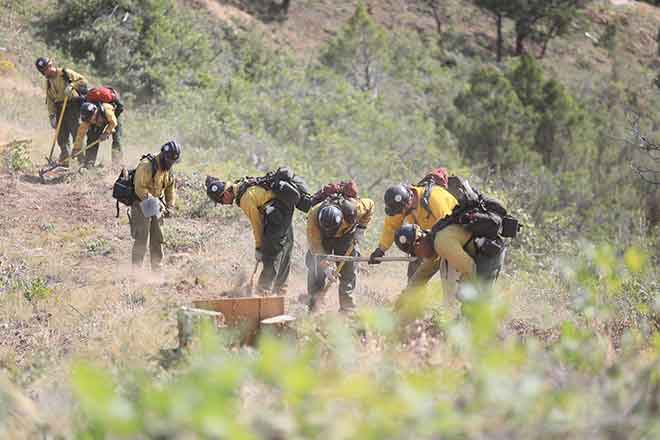 Published
Tuesday, August 18, 2020
Four fires in Colorado have consumed more that 130,000 acres in the state as of Monday night, with little relief expected.
The Pine Gulch Fire in Mesa and Garfield counties has continued to expand, reaching 86,120 acres. The fire was first reported July 31, and has been seven percent contained for more than a week. More than 820 firefighters continue to build and hold containment lines under the direction of Dan Dallas and the Rocky Mountain Type 1 incident management team. Temperatures have been in the 90s, with dry conditions and wind gusts hampering efforts. Much of the fire is on Bureau of Land Management property, with most of the remainder on private property in Garfield County. A small amount of private property in Mesa County has also burned.
Elsewhere in Garfield County, the Grizzly Creek fire has consumed 25,007 acres as nearly 650 firefighters attack the fire in rugged areas. The fire was first reported August 10 and forced the closure of 24 miles of Interstate 70 between Glenwood Springs and Gypsum. The highway remains closed, and no date for reopening has been announced by the Colorado Department of Transportation.
The Williams Fork Fire in Grand County is believed to be human-caused and has burned 6,627 acres, threatening the town of Fraser. Nearly 200 firefighters are working the blaze. The fire was first reported August 14.
In Larimer County, the Cameron Peak fire has burned 12,323 acres while nearly 400 firefighters work to protect structures and conduct suppression activities. The cause of the fire is currently under investigation.
Temperatures ranging from the 80s to more than 100 degrees, along with relative humidity falling into the single digits, have made firefighting efforts difficult in Colorado over the past two weeks. Air quality has also been a concern, with ongoing advisories issued by the Colorado Department of Public Health and Environment for parts of west central Colorado and the state's northern Front Range Counties due in part to smoke.
A fire weather watch is also in effect for Wednesday in northern Colorado as high temperatures continue and wind gusts to 40 miles per hour are predicted.
Temporary flight restrictions - which includes drones - are also in place over the fires due to the heavy use of aircraft to battle the blazes. Flying drones in those areas is a safety hazard and illegal during the flight restrictions.