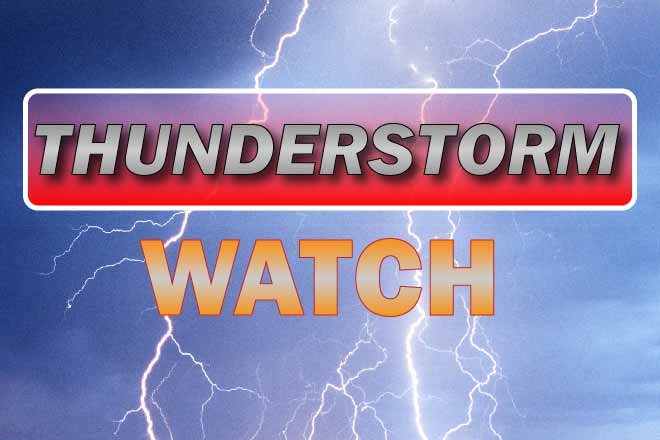 Published
Saturday, July 6, 2019
The National Weather Service has issued a severe thunderstorm watch for 14 counties in northern Colorado until 9:00 p.m. Saturday. The watch stretches into southeast Wyoming and western Nebraska.
Threats this afternoon include hail up to 2.5 inches in diameter, wind gusts to 70 miles per hour, and potential for tornadoes. Storms are expected to develop between 3:00 and 8:00 p.m. closer to the Interstate 25 corridor, and between 6:00 p.m. and midnight over the far eastern plains.
The watch marks the third consecutive day of severe weather potential in the eastern half of the state, following a tornado watch during the Independence Day holiday and a thunderstorm watch for nearly all of eastern Colorado Friday.
Colorado counties included in Saturday's watch
Adams
Arapahoe
Boulder
Broomfield
Denver
Douglas
Elbert
Jefferson
Larimer
Lincoln
Logan
Morgan
Washington
Weld
The Storm Prediction Center in Norman, Oklahoma, has a slight risk for severe storms across northern Colorado and the Denver metro area, including counties under the watch. With a slight risk, severe thunderstorms are expected to be scattered, with isolated intense storms possible.
Weather information updated throughout the day is available at http://weather.KiowaCountyPress.net.
Tornado Safety Tips
If a tornado warning is issued for your area, consider these safety tips
Avoid windows
Go to a basement and use a sturdy table or mattress for protection
If a basement is not available, go to a central, windowless room on the lowest level
Mobile homes / manufactured home are NOT safe, even if tied down - go to a shelter
Vehicles are not safe in a tornado - go to a shelter
If you are caught outdoors, seek shelter in a sturdy building if possible - if not available, lie flat on the ground, use your arms to cover your head, and stay far away from trees