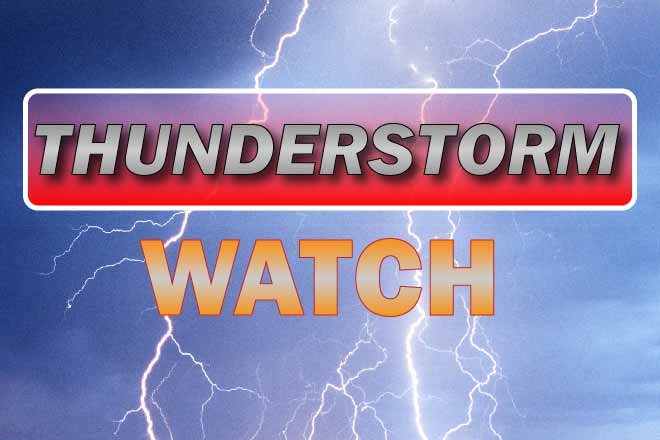 Published
Friday, July 5, 2019
The National Weather Service has issued a severe thunderstorm watch for most eastern Colorado counties until 10:00 p.m.
Storms across the area could produce golf ball-size hail and wind gusts up to 60 miles per hour. Heavy rain, flash flooding, and possibly tornadoes could occur with thunderstorms that develop this afternoon. Thursday, a tornado watch was issued for much of the same area.
Counties included in the watch
Adams
Arapahoe
Baca
Bent
Boulder
Broomfield
Cheyenne
Crowley
Denver
Douglas
Elbert
El Paso
Jefferson
Kiowa
Kit Carson
Larimer
Las Animas
Lincoln
Logan
Morgan
Otero
Prowers
Pueblo
Washington
Weld
Yuma
The Colorado Water Conservation Board issued a flood threat bulletin Friday morning noting a moderate risk for storm flooding for all of El Paso and Elbert counties, along with portions of Kiowa, Crowley, Pueblo, Fremont, Teller, Douglas, Arapahoe and Lincoln counties. The remainder of eastern Colorado faces a low flood risk. CWCB is looking for some storms around the Palmer Ridge to produce up to 2.25 inches of rain along with hail up to two inches in diameter. Rainfall rates up to 1.25 inches per hour for the northeast plains is possible.
The Storm Prediction Center in Norman, Oklahoma, has a slight risk for severe storms across most of northeast Colorado and the Denver metro area, including counties under the watch. With a slight risk, severe thunderstorms are expected to be scattered, with isolated intense storms possible. Isolated tornadoes are also a possibility this afternoon.
The remainder of southeast Colorado is under a marginal risk for severe thunderstorms, which are expected to be short lived and lower intensity.
Rain could last well into Friday night.
Just after 1:00 p.m., A severe thunderstorm watch was issued for eastern Wyoming, southeast Montana, and portions of western South Dakota and Nebraska. Those areas can look for hail up to 2.5 inches in diameter, wind gusts up to 70 mph, and tornado potential. That watch will be in effect until 9:00 p.m.
Southwest Kansas was also placed under a watch at 3:00 p.m. Hail in that area is predicted to reach 1.5 inches in diameter. The warning will expire at 9:00 p.m. Mountain Daylight Time.
Widespread showers and thunderstorms are expected to return Saturday, potentially bringing more heavy rain and flash flooding.
Tornado Safety Tips
If a tornado warning is issued for your area, consider these safety tips
Avoid windows
Go to a basement and use a sturdy table or mattress for protection
If a basement is not available, go to a central, windowless room on the lowest level
Mobile homes / manufactured home are NOT safe, even if tied down - go to a shelter
Vehicles are not safe in a tornado - go to a shelter
If you are caught outdoors, seek shelter in a sturdy building if possible - if not available, lie flat on the ground, use your arms to cover your head, and stay far away from trees