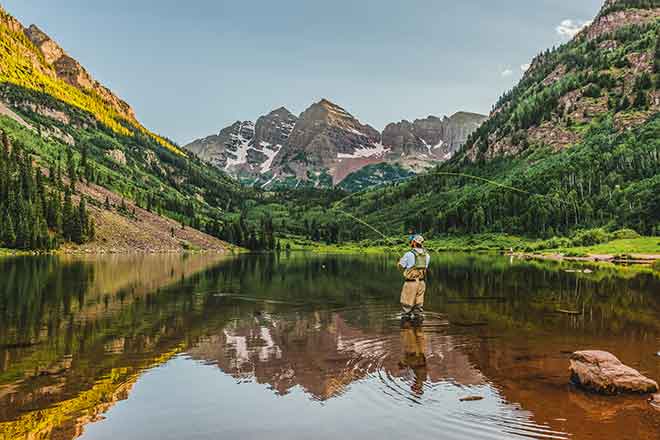 Published
Saturday, February 29, 2020
Colorado Parks and Wildlife is reminding anglers that it's time to get ready for another season of fishing. Coloradans and non-resident visitors can purchase a 2020-21 annual fishing license now either online, at your local CPW office or at any of our hundreds of authorized sales agents statewide. In Eads, J&J Liquor, located 111 West 15th Street, is an authorized agent.
This year, the annual license is valid beginning March 1, running through March 31, 2021. CPW provides a range of options for anglers including both the annual fishing license and one-day fishing licenses as well as educational opportunities for those new to angling.
When planning your next angling trip, be sure to download CPW Fishing, the agency's free official mobile fishing app. Available on the Apple AppStore or Google Play store, CPW Fishing allows anglers to fully explore the state's waters. Whether searching for a new destination or checking weather conditions at a favorite location, the app allows discovery of over 1,300 fishing locations in Colorado.
Features on the app provide information on the type of fishing at each location, stream gauges, species availability, accessibility, family-friendliness and more. Educational features such as up-to-date fishing regulations, fish identification guides and news alerts for breaking information anglers need to be aware of on the water are also available.
CPW stocks 90 million fish annually into waters throughout Colorado in order to ensure quality angling opportunities. CPW does not receive general tax dollars and fishing license fees support all statewide hatchery and fish-stocking operations.
Up-to-date regulations and pricing for annual, daily and multi-day licenses can be found in the 2020 Colorado Fishing Brochure. For individuals ages 18 through 64, a $10 Habitat Stamp is required with the first license purchase for the year.
CPW provides opportunities throughout the season to learn how to fish. Check the calendar on the CPW website for upcoming clinics.