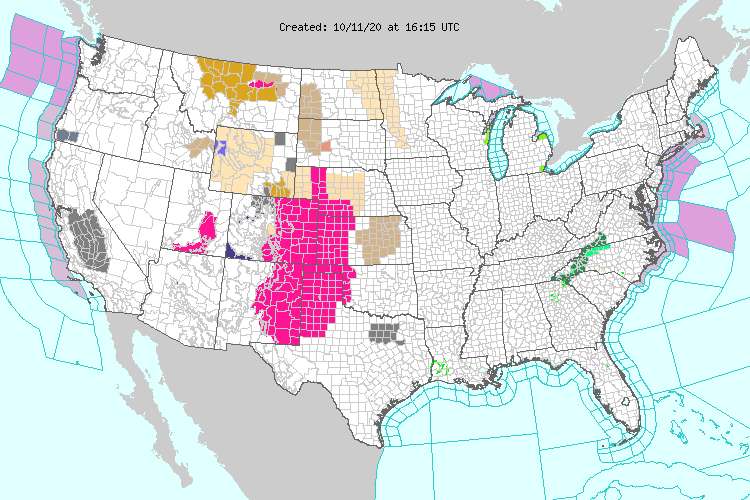 Published
Sunday, October 11, 2020
Dangerous fire conditions return to Colorado's eastern plains and San Luis Valley Sunday, along with portions of Nebraska, Kansas, Oklahoma, Texas and New Mexico.
The National Weather Service has issued a red flag warning for all of eastern Colorado. The warning took effect at 10:00 a.m. in the southeast and will be in place starting at noon in the northern portion of the state. Red flag conditions are expected to continue as late as 9:00 p.m.
West winds are predicted to gust up to 50 miles per hour while relative humidity falls below 10 percent. Some mountain areas may see stronger gusts.
Temperatures are expected to range from low 70s in Larimer County to the mid-80s in eastern and southern Colorado and along the borders with Kansas, Oklahoma and New Mexico.
Colorado is suffering from statewide drought conditions. Sixty percent of the state is in extreme or exceptional drought, the two worst categories, with the most severe conditions in western Colorado and the central eastern plains.
Fires in northern Colorado have been an issue since late July. The Pine Gulch Fire in Mesa and Garfield counties became the state's largest in history when it reached 139,000 acres before being contained. In Larimer County, the Cameron Peak Fire has been burning since mid-August and has reached 135,000 acres. That fire is less than 50 percent contained and has continued to grow under unfavorable weather conditions. Containment is not expected until November.
The Mullen Fire, which started in Wyoming, has burned into Jackson County, Colorado, and reached 175,000 acres across the two states. It is just 25 percent contained.
Red flag conditions Sunday extend from northern Nebraska to southeast New Mexico.
The National Weather Service is cautioning that any activity that could spark a fire should be avoided. Any fires that do start could spread rapidly.