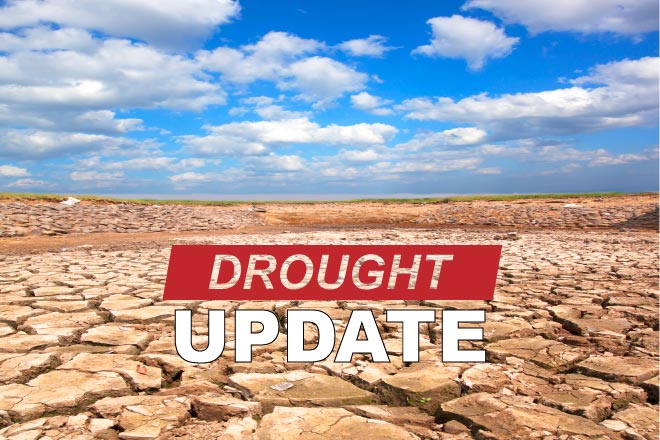 Published
Saturday, March 16, 2019
Over the past two months, frequent snow storms in western Colorado heavily contributed to improvements in state drought conditions that appeared dire less than six months ago.
With the most recent update from the National Drought Mitigation Center, 75 percent of the state is now drought-free or abnormally dry. At the start of the water year on October 1, 28 percent of Colorado fell into those categories, and 48 percent was in extreme or exceptional drought - the two worst categories. Exceptional drought has since disappeared, and extreme drought remains only in small parts of La Plata, Archuleta, Costilla and La Animas counties, representing less than one percent of the state's area.
Since last week, the most significant category improvement was moderate drought, which fell from 46 percent to 19 percent. Large areas of the western half of the state shifted from moderate conditions to abnormally dry. Portions of some counties in the northwest mountains from Jackson and Routt counties to Gunnison and Chaffee counties improved two levels, reaching drought-free conditions for the first time since early 2018, and even 2017 for some areas.
While eastern Colorado has seen little change in recent weeks, blizzard conditions - accompanied by heavy, wet snow in the northeast - are likely to help improve the mix of abnormally dry to moderate drought in the next report. Much of southeast Colorado benefited from rain during the middle of the week.
Overall, 17 percent of Colorado is drought-free, up from 11 percent one week ago. Abnormally dry conditions cover 58 percent of the state, up from 31 percent, while moderate drought dropped from 46 percent to 19. Severe drought also declined from 12 percent last week to six percent in the most recent report. Extreme conditions were present in less than one percent of the state.
One year ago, 10 percent of Colorado was drought-free, while 19 percent was abnormally dry. Twenty-three percent was under moderate conditions, with 34 percent in severe drought. Extreme conditions covered 13 percent of the state.
Snowpack has continued to improve across Colorado. Snow water equivalent - the measure of liquid water available in the snow - stands at 143 percent of the median as of March 14, up from 127 percent reported March 8 for the state as a whole. The southern river basins now range from 154 to 159 percent of the median. Two months ago, the southwest basins were around 75 percent.
Northern Colorado is also in good condition, with basins ranging from 128 percent to 141 percent of the median.
Drought categories include (ranked from least to most severe) abnormally dry, moderate, severe, extreme and exceptional drought.
Drought maps courtesy of the National Drought Mitigation Center. Snow water Equivalent map courtesy of the United States Department of Agriculture - Natural Resources Conservation Service.
Colorado Drought by the Numbers

Week

Date

None

D0

D1

D2

D3

D4

Current

3/12/19

17

58

19

6

1

0

Last Week

3/5/19

11

31

46

12

1

0

3 Months Ago

12/11/18

17

17

11

28

16

11

Start of Calendar Year

1/1/19

18

16

11

28

16

11

Start of Water Year

9/25/18

14

14

8

16

32

16

One Year Ago

3/13/18

10

19

23

34

13

0