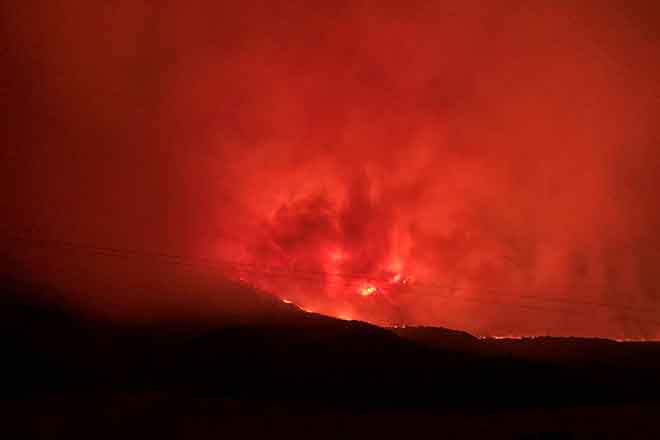 Published
Thursday, August 13, 2020
More than 650 firefighters continue to battle the Pine Gulch Fire in Garfield and Mesa counties, which has grown to 58,836 acres as of Wednesday. Containment has remained steady at seven percent since Sunday.
The lightning-sparked fire was first reported July 31, and has grown rapidly since the weekend under hot, dry and windy conditions. Fire has been spreading to the north and east since it started, rapidly consuming thousands of acres as firefighters worked to build and hold lines. Aircraft are also working to slow the fire's spread.
The Garfield County Sheriff's Office has issued evacuation orders for residents on County Roads 202, 204, 207, 209 and 211. A road closure is in effect on County Road 204 at County Road 202.
Further east in Garfield County, the Grizzly Creek Fire, first reported Monday, also continued to grow, reaching 4,624 acres.
Nearly 240 firefighters are working the blaze, which has prompted evacuations for the No Name, Lookout Mountain and Coulter Creek areas east of Glenwood Springs. The fire, which has burned 4,624 acres, was at zero percent containment Wednesday.
Interstate 70 has been closed since Monday from Glenwood Springs to Gypsum, with no projection for a reopening date. Independence Pass has also been closed.
A red flag warning for high fire danger will be in effect across northwest Colorado from 11:00 a.m. to 8:00 p.m. Thursday. Temperatures in the 90s are expected, along with wind gusts up to 35 miles per hour and relative humidity dropping as low as six percent.
An air quality health advisory, issued by the Colorado Department of Public Health and Environment, is in effect for most northwest Colorado counties through at least Thursday morning due to smoke from both fires. CDPHE has been issuing advisories on a daily basis. Moderate to heavy smoke could cause breathing difficulty for people with respiratory illnesses, children, and people who are elderly. Outdoor activity should be limited.
Smoke from the fires is also contributing to air quality issues for Colorado's northern front range communities, including Denver, where alerts are also in effect Thursday.
Temporary flight restrictions - which includes drones - are also in place over the fires due to the heavy use of firefighting aircraft to battle the blazes.
Fire danger in the area remains high, and Stage 2 fire restrictions are in place for Mesa and Garfield counties. Stage 2 restrictions are also in effect for Bureau of Land Management land covered by the Grand Junction Field Office.