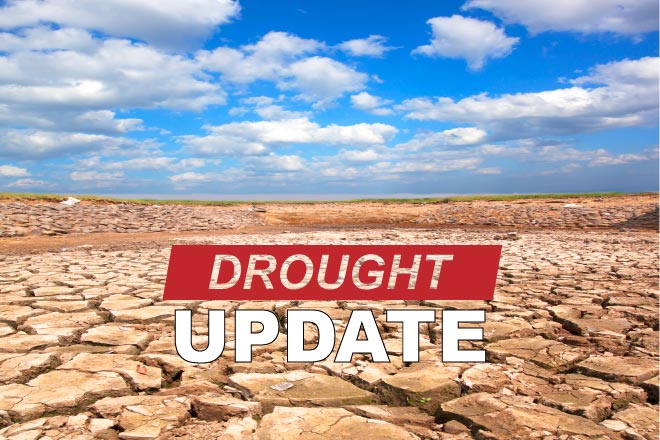 Published
Saturday, August 15, 2020
Drought conditions in Colorado improved in southeast Colorado this week while parts of western Colorado saw an increase in extreme conditions according to the latest update from the National Drought Mitigation Center.
In the southeast, extreme drought retreated from Baca County, as well as part of eastern Las Animas County, replaced by severe conditions. Southwest Kit Carson and central Cheyenne counties moved from extreme to severe drought as well.
Similar improvements were also seen in the San Luis Valley for Saguache, Alamosa and portions of Rio Grande, Conejos and Costilla counties. Nearby Custer and northern Huerfano counties also shifted to severe drought.
On Colorado's western slope, extreme drought expanded to cover all of Mesa County and the remaining western areas of San Miguel and Montrose counties. Extreme conditions also expanded into much of southern Garfield County where the Pine Gulch and Grizzly Creek fires are burning. Little to no rain has fallen in that area, while daily temperatures have been in the upper 90s and above.
Moderate drought expanded further into abnormally dry areas of north central Colorado and central mountain counties.
The monthly drought outlook for August from the National Weather Service Climate Prediction Center - released July 31 - showed that drought was expected to develop in areas of Colorado that are currently abnormally dry. The prediction has been accurate for northwest Colorado and central portions of the state, which moved into moderate drought this week.
Overall, six percent of the state is abnormally dry, down from 14 percent last week. Moderate drought increased five points to 32 percent, while severe drought increased six percent to 38. Extreme drought dropped from 27 to 24 percent.
Nearly 4.2 million people in Colorado are in drought-impacted areas.
At this time last year, 93 percent of Colorado was drought-free, with the remaining seven percent listed as abnormally dry. Just over one year ago, the state was in an eight-week span of drought-free conditions - the first time the state had been clear from all levels of drought and abnormally dry conditions since records became available starting in 2000.
Drought classes include (ranked from least to most severe) D0 - abnormally dry, D1 - moderate, D2 - severe, D3 - extreme, and D4 - exceptional drought.
Colorado Drought by the Numbers

Week

Date

None

D0

D1

D2

D3

D4

Current

8/11/20

0

6

32

38

24

0

Last Week

8/4/20

0

14

27

32

27

0

3 Months Ago

5/12/20

21

17

17

31

15

0

Start of Calendar Year

12/31/19

32

17

31

20

0

0

Start of Water Year

10/1/19

30

42

28

0

0

0

One Year Ago

8/13/19

93

7

0

0

0

0