Image
7% containment as Pine Gulch Fire approaches 75,000 acres
The Pine Gulch Fire in Mesa and Garfield Counties continued to spread Friday, reaching 74,807 acres. The fire became the state's fifth largest in history Friday morning, overtaking the 71,739-acre Missionary Ridge Fire from 2002.
More than 750 firefighters under Incident Commander Dan Dallas from the Rocky Mountain Incident Management Team are working to hold, improve and mop up completed containment lines along the southern fire perimeter. The fire was first reported July 31 and has continued to spread into sparsely populated areas to the north and east among piñon pine, juniper and oak trees, along with sage brush.
Image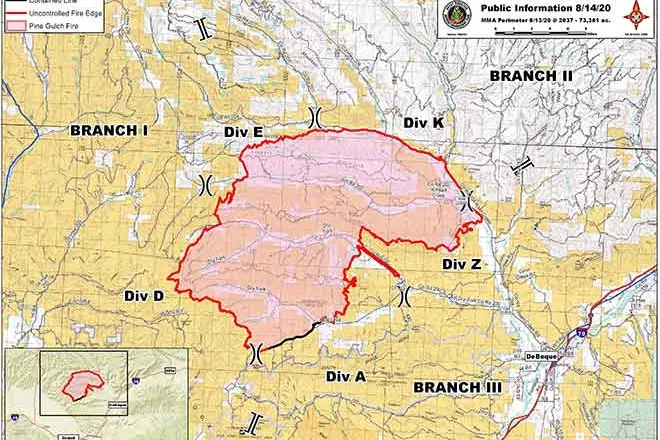 Elsewhere in Garfield County, the Grizzly Creek Fire has reached nearly 20,000 acres, resulting in evacuations and road closures, including Interstate 70, which has been closed since Monday afternoon.
Despite the low number of homes in the area, some evacuation orders have been issued. The Garfield County Sheriff's Office ordered residents on County Roads 202, 204, 207, 209 and 211 to leave the area. A road closure is in effect on County Road 204 at County Road 200.
Hot, dry and windy conditions – with gusts up to 35 miles per hour at times – have contributed to the fire's rapid growth. Unfavorable conditions are expected to continue Saturday and Sunday as a high-pressure system builds over the western United States. While some thunderstorms are possible Monday, the best chances for rain come later in the week. Although the storms may bring higher relative humidity which would help firefighting efforts, there is also a risk that strong winds produced by the storms could also increase the fire's spread.
Image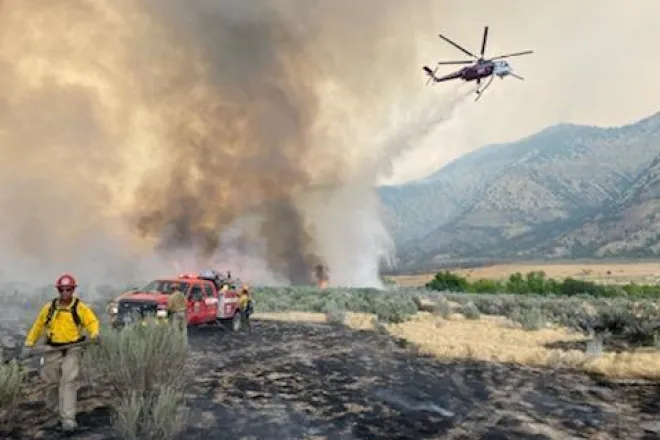 An air quality health advisory, issued by the Colorado Department of Public Health and Environment, is in effect for much of northwest Colorado through at least Sunday morning due to smoke from both fires. CDPHE has been issuing advisories on a daily basis. Moderate to heavy smoke could cause breathing difficulty for people with respiratory illnesses, children, and people who are elderly. Outdoor activity should be limited.
Smoke from the fires is also contributing to air quality issues for Colorado's northern front range communities, including Denver, where alerts are also in effect Saturday.
Temporary flight restrictions – which includes drones - are also in place over the fire due to the heavy use of firefighting aircraft to battle the blaze. Flying drones in the area is a safety hazard and illegal during the flight restrictions.
Fire danger in the area remains high, and Stage 2 fire restrictions are in place for Mesa and Garfield counties. Stage 2 restrictions are also in effect for Bureau of Land Management land covered by the Grand Junction Field Office.