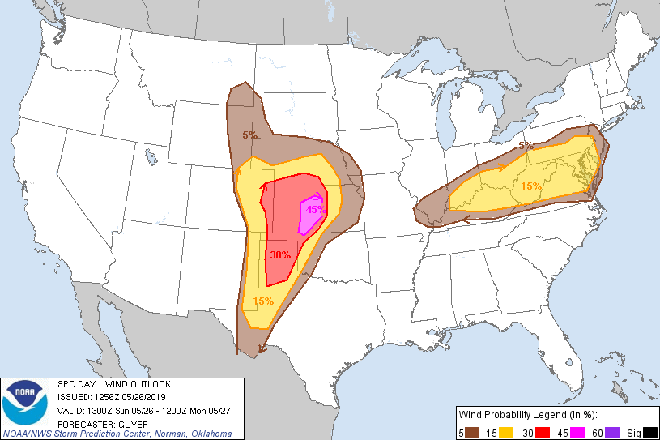 Published
Sunday, May 26, 2019
Note: this article has been updated with an update from the National Weather Service at 10:52 a.m. to show an expanded area at risk for tornadoes, hail and widespread, intense storms.
Tornadoes and hail up to three inches in diameter are possible in southeast Colorado Sunday afternoon according to the National Weather Service office in Pueblo.
Advertisement
Golden Plains Insurance
For All Your Crop Insurance Needs in Southeast Colorado
Call NOW for your crop hail insurance!
719-469-1830
Strong to severe thunderstorms are expected to form after 2:00 p.m., with the greatest threat along the Colorado-Kansas border in Kiowa, Prowers and Baca counties. By 11:17 a.m., the NWS was tracking a storm expected to move across Otero, Bent and Kiowa counties that could produce half-inches hail and wind gusts to 40 mph.
The strongest storms could include wind gusts up to 75 miles per hour and hail between two and three inches in diameter. Isolated tornadoes are also possible in the area, particularly in Kit Carson, Cheyenne, Kiowa, Bent, Prowers and Baca counties.
Flash flooding and lightning are also a risk later in the day.
The NWS classifies the risk Sunday as "moderate" - the fourth highest out of five categories. Moderate risk means that widespread, intense storms are likely, and can be expect to be long-lived.
The risk of tornadoes is 15 percent in southeast Kit Carson, eastern Cheyenne, Kiowa, and Bent counties, along with all or most of Prowers and Baca counties - much higher than usual for the area during severe weather days. The same area also faces a 45 percent probability of severe hail. Farmers should consider binding hail insurance for crops at risk of damage. While insurance company rules and requirements vary, hail insurance typically must be bound two to four hours before damage occurs.
Temperatures across the region are expected to be in the mid-70s to mid-80s but can be expected to cool as storms develop.
Further north, severe weather is also predicted Sunday afternoon, though the risk of tornadoes is not as great, and hail up to two inches in diameter is possible.
Tornado Safety Tips
If a tornado warning is issued for your area, consider these safety tips
Avoid windows
Go to a basement and use a sturdy table or mattress for protection
If a basement is not available, go to a central, windowless room on the lowest level
Mobile homes / manufactured home are NOT safe, even if tied down - go to a shelter
Vehicles are not safe in a tornado - go to a shelter
If you are caught outdoors, seek shelter in a sturdy building if possible - if not available, lie flat on the ground, use your arms to cover your head, and stay far away from trees
This is an evolving weather issue. Check back for updates.