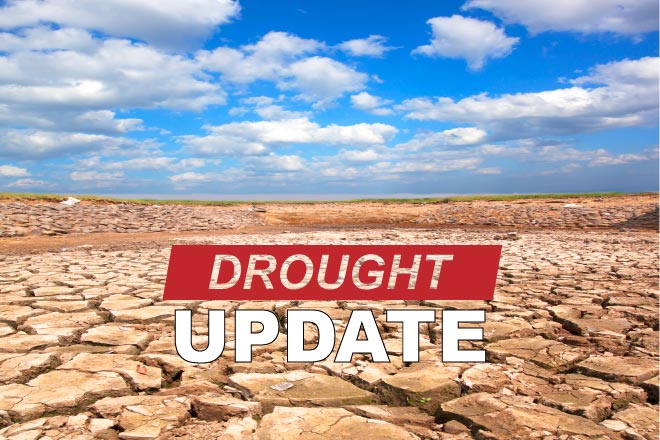 Published
Saturday, July 18, 2020
One week after eastern Colorado saw a slight improvement in its drought picture, extreme drought renewed its expansion, and much of the northwest and north central part of the state drifted into abnormally dry conditions, according to the latest report from the National Drought Mitigation Center.
While some rain fell during rounds of severe thunderstorms over the past week, most areas received less than one inch of precipitation, and high temperatures generally offset the added moisture.
The USDA National Agricultural Statistics Service reports 60 percent of Colorado's topsoil moisture was rated as short or very short. Forty percent of pasture and rangeland was rated poor or very poor. Northwest counties saw crop and pasture conditions decline due to lack of precipitation. Lower wheat yields in northeast counties have been partly attributed to drier conditions, while livestock producers are pulling stock off pastures due to lack of grass.
Most northern counties, which had been drought-free, are now in abnormally dry conditions. Portions of northwest Moffat, southern Larimer, southwest Weld and northern Jefferson counties escaped the decline. Most of Boulder, Gilpin and Broomfield counties have also avoided all levels of drought.
Extreme drought - the second-worst category - entered Mesa County and a small portion of southern Garfield County while expanding to cover most of Delta County.
Severe drought moved into Phillips County, and expanded in Garfield, Washington and Yuma counties, while moderate drought expanded in Rio Blanco and Sedgwick counties.
Overall, just five percent of Colorado is drought-free, down from 16 percent during the prior week. Abnormally dry conditions cover one-quarter of the state, up from 15 percent. Moderate drought fell two points to 12 percent, while severe drought was stable at 21 percent. Extreme drought increased by three percent to 37. Fifty-eight percent of the state is in severe or extreme conditions.
Just under 2.4 million people in Colorado live in drought-impacted parts of the state.
One year ago, Colorado was free from abnormally dry conditions and all levels of drought for the first time since tracking began in 2000.
Drought classes include (ranked from least to most severe) D0 - abnormally dry, D1 - moderate, D2 - severe, D3 - extreme, and D4 - exceptional drought.
Colorado Drought by the Numbers

Week

Date

None

D0

D1

D2

D3

D4

Current

7/14/20

5

25

12

21

37

0

Last Week

7/7/20

16

15

14

21

34

0

3 Months Ago

4/14/20

33

14

40

13

0

0

Start of Calendar Year

12/31/19

32

17

31

20

0

0

Start of Water Year

10/1/19

30

42

28

0

0

0

One Year Ago

7/16/19

100

0

0

0

0

0