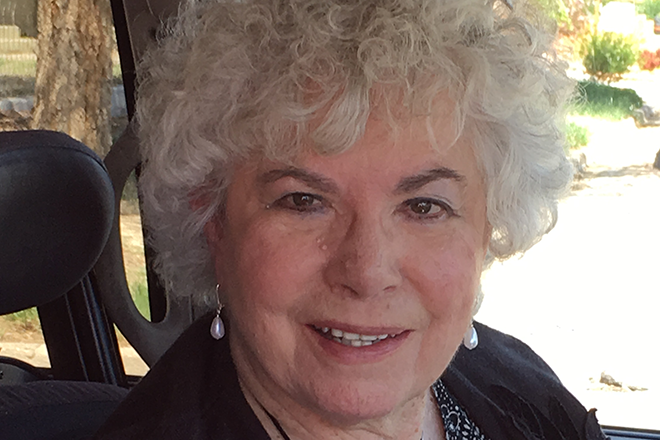 Published
Tuesday, March 15, 2016
"Beware of false prophets who come to you in sheep's clothing but inwardly are ravenous wolves." Matthew 7:15 We, Americans should study and learn the Scriptures to know the truth and recognize falsehood. Hmm that reminds me of the media confusion during this political season.
Barry Davis, formerly of Haswell surprised his Aunt Elda Davis Stavely last week when he went to visit her in Prairie Pines. Barry, who is a contract construction worker, travels around the world to build Embassies. Sometimes his mother, Wanda (Dunlap) goes with him.
"According to Pam Lessenden, the Town of Haswell Clerk, the Haswell Town Board is hosting their Annual Spring Fling Dinner and Dance. It will be Saturday, March 19th with the dinner beginning at 5:30 p.m. in the Community Building. This is a fundraiser for the building's upkeep and utilities. The meal and dance is $10.00 with a lesser price for children. People who just want to go to the Dance pay $5.00. It will be entertaining for spectators to listen and watch Deejay Darwin, D.J., Nelson's music and light show.
Raelynn Riley of the Fair Board is teaming up with the Crow Luther group, to organize the Easter Egg Hunt event on March 26th. Marty Miller will take photos of any age person with the Big Easter Bunny for $2.00. CLCEC members and others will donate candy in plastic eggs. Riley would welcome donations or people to help hide eggs around the Court House Park while the children are on an Easter Parade. There will be a petting zoo and the Sheriff's climbing wall plus a matinee.
Lacy and J.D. Van Campen were given a lovely baby shower for their little girl, LaNae. Friends hosted the party at the Praise Community Church Fellowship room.
Pam, (Brown) Weirich is home from Washington D.C. where she had the misfortune to fall and break her hip. She had surgery the next day in the large Washington University Hospital. A few days later, her husband, Jerry, arranged their flight home in a first class plane so they would have more leg room. I know that her friends at the Prairie Pines are concerned and missing their Assistant Administrator, Pam.
A funeral and dinner was held for the family and friends of Bob Kliesen at the Community Building in Eads. Pastor Nancy Peacock and Pastor Delbert Beard led the ceremony followed by a presentation of the Kit Carson VFW who presented the flag to Bob's wife, Debbie. Bob was a respected man in the oil drilling occupation. He and Debbie raised their family, Rob, Josh, Jackie, Raina, and Jamie in the Eads. Our community extends our sympathy to them and their spouses and families.
Ricky Olvera is a favored man in this town because he delivers those delicious Day-Light-Donuts to the C-Store before he goes out to work at the Saffer Spraying compound. Thank you, Ricky!!!
Bleu and Amber (Smelker) Ellis are thrilled to have their newborn son, Redden Pike. The young couple has jobs in Limon. Bleu is an Eads graduate and the nephew of Lane and Deborah Gooden.
Margit Parker of Lamar was 99 years old last week. She and her husband, Oral, raised their children in and around Eads. She had the misfortune to break her leg last week. Her son-in-law, Luke Vocke, Eads Postmaster, and Emma made her a checker board cake to take to the hospital.
The Weisbrod Hospital Auxiliary met last week. One of their new projects will be to buy paint for the large dining room. Teri Castle, Activities Director, told the ladies about the many plans and activities that are offered for the residents. Linda Trosper also added a special touch to the meeting by bringing gold boxes of specialty candies made in Nucla, CO where they keep some of their cattle. We were glad Linda remembered that English toffee is LaVerle Kelley's favorite candy.
When we went to the Coffee Hour at Prairie Pines Friday, there was a big bouquet of yellow daffodils on the table. Loretta Seibel had picked them from around Evelyn Garner's former home. We were amazed to see their beauty and size since the bulb plants haven't been watered for years!
Gloria and Keith Barlow of Eads are mourning the death of her mother, Vernita Linenberger, who has been a resident at Prairie Pines and at the Weisbrod ECU the past few years since she came from Kansas. We saw that she was a lady who enjoyed polka type music especially played by Phil Pollreis.
Next week is Holy Week around the world. In our part of the world there will be a Mandy Thursday service at Trinity Lutheran Church in Kit Carson at 7:00 p.m. The next evening, the Kiowa County Ministerial Fellowship will host the Good Friday service at 6:30 p.m. in the Eads Christian Church. Some churches will have early morning breakfasts also.
Barb Diel held the elevator button for me as she was telling me what a fine and good hysical Therapist Dr. Tim Richardt is. After my first session, I could tell that she was right! In a short time he showed me some exercises that can be helpful to me. I need to gain stability because my wheelchair tipped forward again in the dark north of the senior center, but soon two angels, Larry and Carla Gifford, drove by and saw my desperation. But I could still go to the movie. Yay
For all the listeners, I want to thank the local businesses who paid for radio advertisements on KLMR and KVAY radio stations who broadcast all year and especially for the basketball games played in Colorado Springs and Loveland. It was a pleasure to listen to hours and hours of ames.
The movie "Eddie the Eagle" was a true story about a young determined disabled English boy who never gave up his childhood dream to compete in the Olympics. This was a good, wholesome movie that I wish more people would have gone to see.
This week-end, March 18, 19, and 20 will be the movie: "London Has Fallen". The trailer (preview) looks to be what nations fear for their leaders in the future for any country.
There will be two sets of movies during Holy Week, March 25, 26, and 27th.
The highly acclaimed Disney Movie, "Zootopia" will be at 4:00 p.m. on Friday and Saturday and on Sunday it will be at 6:00 p.m. While the long awaited faith based movie, "Risen" which is about a Roman centurion who was given the assignment to find the body of the missing Jew, Jesus. One can view this movie, "Risen," at 4:00 p.m. on Friday and Saturday and a 2:00 on Resurrection Sunday.
There are so many more fun things to do on Saturday, March 25th such as attending the 90th birthday of June Blooding at the Prairie Pines and/or Glaida Craven's 90th Swedish Style birthday in the Pool Hall in Kit Carson.
Small town life offers entertaining and worthwhile activities for persons who chose to participate, volunteer, or observe. Life is good in Eads America.