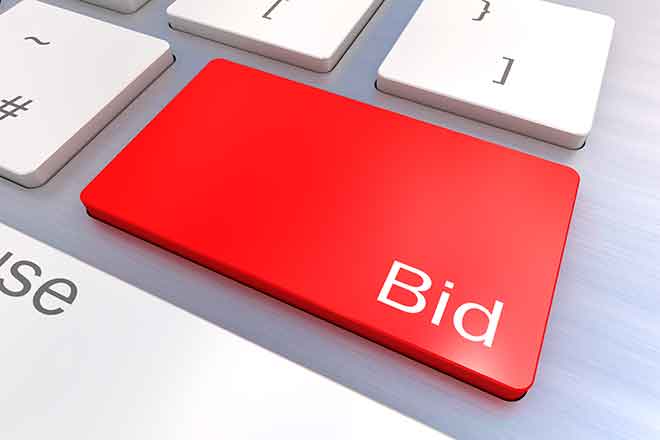 Published
Friday, July 12, 2019
ADVERTISEMENT FOR BIDS
Sheridan Lake Water District PO Box 1284 Sheridan Lake, CO 81071
Separate sealed bids for Water System Improvements generally consisting of three independent schedules of work including: Schedule 1- General Water System Improvements that generally includes 12" water lines (4,989 lineal feet (LF)), 6" water lines (117 LF), together with 12" gate valve (3 EA), 6" gate valves (6 EA); 3/4" taps (4 EA); 3/4" Type "K" Copper service line (63 LF); closing an existing corporation stop (1 EA); connection to existing water service lines (3 EA); 3/4" replacement meters all with radio based automatic reading system including hardware and software (64 EA); 6" and 12" steel tank yard piping; poured-in-place reinforced concrete foundation for new water storage tank; tank site work; modifications to an existing well/chlorination building including piping, valving, metering, modifications to power panel, new power panel, disconnect switch, control panel, diesel generator and associated controls, chemical feed equipment, extension of new control wiring from power pole meter and to new well site and appurtenances. Schedule 2- New Water Storage Tank generally includes: furnishing and erecting a 14' diameter x 76' tall welded steel water storage standpipe including painting and disinfection. Schedule 3- New Dakota Sandstone Formation Well generally includes: installation of a new well, 1,542 feet deep, 12" bore, 8" casing, 8" stainless steel screen, gravel pack, pump, motor, drop pipe, electrical service, controls, pitless unit, well development and appurtenances will be received by the Sheridan Lake Water District at the office of GMS, Inc., 611 North Weber, Suite 300, Colorado Springs, CO 80903 until 3:00 p.m. Mountain Time, August 13, 2019, and then at such office publicly opened and read aloud.
A certified check or bank draft, payable to the order of the Sheridan Lake Water District (Owner) negotiable U.S. Government bonds (at par value) or a satisfactory Bid Bond executed by the Bidder and an acceptable surety in an amount equal to five percent (5%) of the total Bid shall be submitted with theBid.
Attentionis called to the fact that the funding for this project has requirements that include, but are not limited to, provisions for Davis-Bacon wages that set forth the minimum salaries and wages within the contract documents that must be paid on the project along with weekly payroll reporting. The current applicable Heavy Decision at the time of advertising is No. CO20190003 05/10/2019 Modification Number 3 dated 05/10/2019. The applicable modification of the Heavy Decision will be locked in within ten days of the bid date. The Contractor must ensure that employees and applications for employment are not discriminated against by their race, color, religion, sex or national origin. Bidders shall thoroughly review these requirements and comply with same if awarded the project.
Attention is called to the fact that this project is subject to Section 436 of P.L. 113-76, the Consolidated Appropriations Act, 2014 wherein all iron and steel products provided on this project must be produced in the United States. Appropriate documentation must be provided to validate that this requirement is satisfied.
The CONTRACT DOCUMENTS may be examined at the following locations:
Sheridan Lake Water District, 417 E. Broadway, Sheridan Lake, CO 81071 (Please call for an appointment: Vern 719-729-3519 or Debbie 719-691-4353)
GMS, Inc., 611 N. Weber, Suite 300, Colorado Springs, CO 80903
Dodge Data & Analytics, 4300 Beltway Place, Ste 150, Arlington, TX 76018
Copies of the CONTRACT DOCUMENTS may be obtained at the office of GMS, Inc. located at 611 N. Weber, Suite 300, Colorado Springs, CO 80903 upon payment of $160.00 for each set.
Any planholder returning the CONTRACT DOCUMENTS in good condition within 30 days of bid opening will be refunded $40.00.
Dates of Advertisement:
July 12, 2019 July 19, 2019 July 26, 2019
July 9, 2019 /s/ Garold Deines, President
Date
First Published July 12, 2019 Last Published July 26, 2019 In the Kiowa County Press