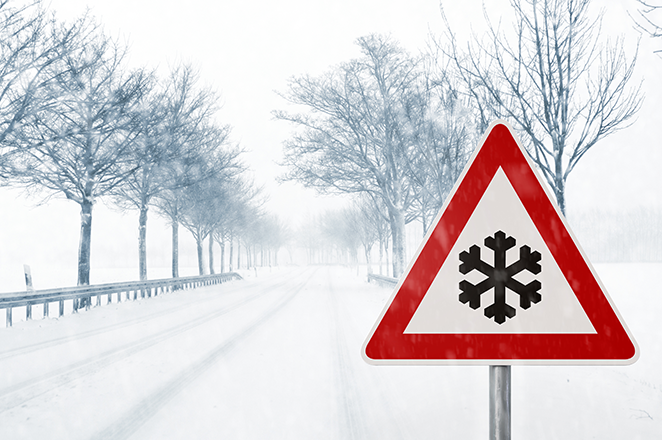 Published
Sunday, January 21, 2018
[Updated to reflect the closures of Interstate 70 and US Highway 36, along with watch and warning updates.] A winter storm stretching from Colorado to the Great Lakes is bringing snow, wind and colder temperatures across the area.
A blizzard warning is in effect for Logan, Phillips, Sedgwick, Washington, Yuma, Kit Carson, Cheyenne and Lincoln counties, along with eastern Elbert county, until midnight Sunday. Winds are expected to gust as high as 50 miles per hour, with blowing snow reducing visibility to one-quarter mile or less. Whiteout conditions are expected, making travel dangerous or impossible.
The Colorado Department of Transportation has had dozens of plow crews out over night working to keep roads open, with efforts continuing through the day. Interstate 70 closed in both directions between Limon and Burlington shortly before 3:00 p.m. due to multiple crashes and adverse weather. A short time later, the eastbound closure was extended back to Airpark Road, and US Highway 36 closed in both direction from Byers to Idalia. Roads are icy and snow packed across most of the state. Southeast Colorado roads were mainly clear earlier in the day, however by mid-afternoon, roads in the area were showing at least blowing snow.
Most areas south of Interstate 70 can expect four inches or less of snow, while the area north of the highway could see up to 11 inches as the day progresses. Burlington and Limon are expecting up to eight inches, while the total near Wray will approach a foot. Karval, Cheyenne Wells, Eads and La Junta will be closer to four inches, while Baca county - hard-hit by drought - will see less than two inches.
The storm system passed through western Colorado Saturday, and the region is only looking for an additional one to two inches Sunday.
In addition to the blizzard warning, north central Colorado was under a winter storm warning until about 5:00 p.m., while portions of southeast Colorado are under a winter weather advisory as the storm moves east out of the state.
Travel is discouraged across the eastern plains Sunday due to expected conditions. If you must go out, check road conditions at http://cotrip.org or by calling 511 on your cell phone, and allow extra time to reach your destination. Carry an emergency kit in your car, and make sure someone knows when you expect to arrive.
Weather information updated throughout the day is available at http://KiowaCountyPress.net/weather.